Bowen Euros, Wrexham 2013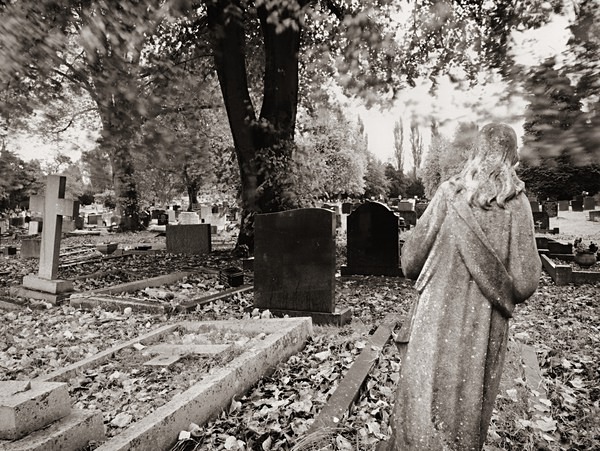 Notes on Euros Bowen

A huge graveyard and there was no-one at home in the offices at the entrance. I was therefore alone with my daughter wandering around, searching. One becomes adept at scanning names of faded stones. We searched, at a very rough estimation, around a thousand or so gravestones. But to no avail. I had seen this leaning Christ figure beforehand. Part of me was disappointed not finding the grave, another part of me felt justified since we had spent an hour or two searching fruitlessly. The wind picked up slightly as I set the camera upon tripod, the leaves blew around the ground. Everything seemed in place. A photograph was made, the camera packed up. On the way back we kept looking at the names on the stones (it's a habit difficult to break, even to this day) and if I'd seen the correct grave then I would most likely have set up the camera again and taken an image. But would it have been as good as this one? But what about the brief? The poet's name on the piece of paper was not the same as the name on this Christ-stone. Can a poet's grave that isn't a poet's grave still be a poet's grave? I didn't mind. I don't think Euros Bowen would have minded. I had interpreted a fruitless search with the back of a man's head. He's still there now.

From Winter 2012 through to Spriing 2014 I visited graveyards throughout the length and breadth of Wales. Many hours were spent searching for particular gravestones, of poet's, well known and not so well known. A few were not found, mostly they were.
The project was difficult not due the hours searching but more so to finding an ordinary gravestone in a wild graveyard. So often other viewpoints of other gravestones would have made an excellent photographic record but I was forced to settle, even compromise, with my brief. Frustrating as it was, it was also made the more rewarding, my eye was forced to work harder. Fortunately these peaceful places helped with keeping the mind free of distractions.
Here are a few of the images published in the book.
| | |
| --- | --- |
| | |