Broken Window, BANC ESGAIR MWYN, Ffair Rhos, Ceredigion 2009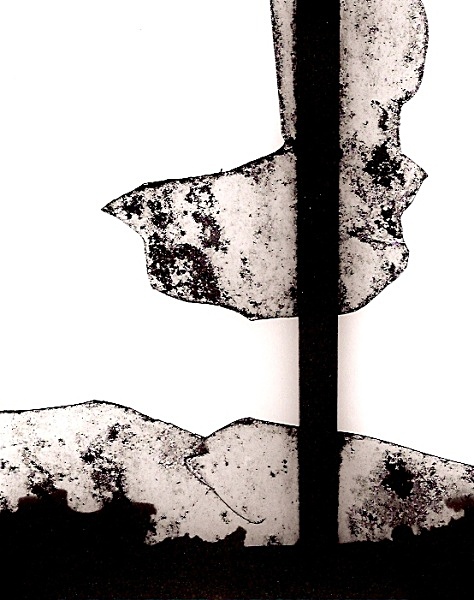 Notes on BANC ESGAIR MWYN, Ffair Rhos, Ceredigion 2009

This was taken inside the corrugated iron building at the mines. There's little of interest within, some debris of metal workings but the real reason for entering is to find temporary rest-bite from the piercing winds that always seem to blow at this exposed site.

A bleak and desolate place. A jumble of machinery and other red coloured rusty mechanics, some dating from the mid 1900's, blotting the landscape and resilient in the wind and rain. An eerie place and a little further up the hillside two large open mining shafts which at some point had served as a general farmyard junk pit and filled with car parts, corrugated iron and many other unrecognisable and tangled metal.

Historically, Esgair Mwn, was a place of hard work and strife, one such episode involving a gang and a gun is recorded in Bethan Hughes' book on Peterwell mansion and its notorious owner Lloyd Herbert. There has been a mine at this sight for over 300 years but finally came to an end in 1966. I was also told that there was a brave sole miner during the 1980's. I wonder if this is true and one also wonders what kind of life it must have been.

BANC ESGAIR MWN. Ffair-Rhos, Ceredigion 2005 & 2009

Lie diffaith a llwm. Amrywiaeth o beirianwaith a moduron wedi rhydu yn blith draphlith o amgylch y He, rhai ohonynt yn dyddio'n ol i ganol yr ugeinfed ganrif, yn ddolur i'r llygad ond yn gadarn yn erbyn y gwynt a'r glaw. Lie annaearol yw hwn, ac wrth ddringo ychydig yn uwch ar y llechwedd ceir dwy siafft gloddio fawr agored, a fu ar un adeg yn dwll ar gyfer pob math o sbwriel fferm, ac felly maent yn llawn ceir, tun rhychiog a phentyrrau dryslyd o fetel sy'n amhosib dyfalu beth ydynt.

Yn hanesyddol bu cryn ddiwydrwydd ac ymryson yn Esgair Mwn, a bu i Bethan Hughes gofnodi un achlysur yn ymwneud a gang a dryll yn ei chyfrol Peterwell sydd yn ofrhain hanes ystad Ffynnonbedr a'i pherchennog drwg-enwog Lloyd Herbert. Bu mwynglawdd yma am dros 300 mlynedd, ond daeth y gwaith i ben ym 1966. Clywais son y bu mwynwr yn gweithio yno ar ei ben ei hun am gyfnod byr yn y 1980au.
| | |
| --- | --- |
| | |