CORRUGATED IRON BUILDING, Devil's Bridge, Ceredigion 2003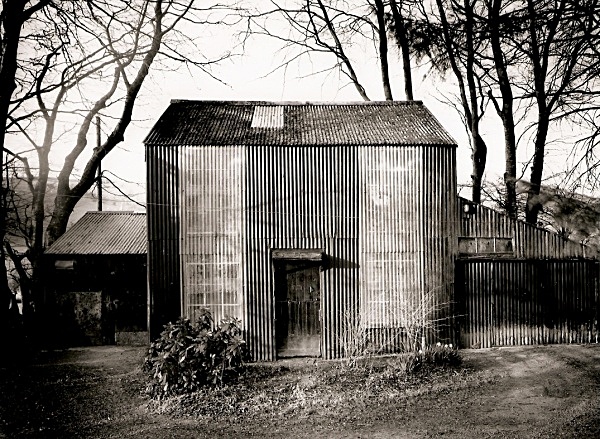 Notes on CORRUGATED IRON BUILDING, Devil's Bridge, Ceredigion 2003

This was taken on a warm sunny Sunday afternoon whilst riding home with my camera and tripod all attached onto my bicycle.

Although needing very little maintenance these cheap yet vernicular buildings are becoming ever scarce throughout the counties. The corrugated (former) church of St Iago's can still be found in Devil's Bridge but is now a private residence.

The two storey corrugated building shown here appealed to me, even the windows are covered in transparent plastic sheets. A couple of daffodils near to the bottom right give the image a Welsh feel.

SIED HAEARN RHYCHIOG. Pontarfynach. Ceredigion 2003

Tynnwyd y Hun syml hwn ar bnawn Sul heulog wrth fynd adref ar fy meic gyda fy nghamera a threipod ar fy meic. Er mai ychydig iawn o gynnal a chadw sydd angen amynt mae'r math hwn o adeiladau chad ond brodorol yn mynd yn fwy prin dry'r siroedd. Hyd yn ddiweddar roedd hyd yn oed eglwys fechan wedi ei gwneud o dun rhychiog ym Mhontarfynach.
Mae'r adeilad rhychiog dau lawr hwn yn apelio ataf, mae hyd yn oed y ffenestri wedi eu gorchuddio a haenau plastig tryloyw. Mae ychydig gennin Pedr ar waeiod y Hun ar yr ochr dde yn rhoi teimlad Cymreig. Drwy Gymru gall rhywun weld nifer o'r adeiladau rhychiog hyn. Roedd eglwys ym Mhontarfynach nes yn weddol ddiweddar.
| | |
| --- | --- |
| | |