Evans Jones Albert - Cynan, Anglesey 2013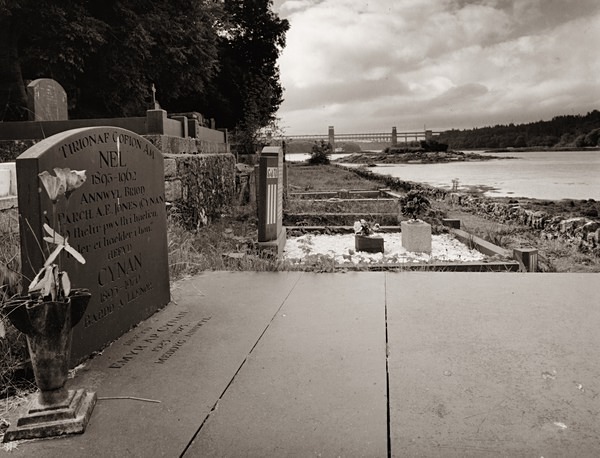 Notes on Evans Jones Albert - Cynan

A small church and graveyard on an island on the Menai Strait. A simple exposure, my options were limited. The day was bright, uninspiring. A small dog yapped at me for five minutes before the owner wandered up, apologising. After I made the exposure I sat for a few minutes thinking if I could improve upon this image. I could have moved the pot of flowers but to what advancement? A few minutes later another dog sniffing me. I rose and went back home.

From Winter 2012 through to Spriing 2014 I visited graveyards throughout the length and breadth of Wales. Many hours were spent searching for particular gravestones, of poet's, well known and not so well known. A few were not found, mostly they were.
The project was difficult not due the hours searching but more so to finding an ordinary gravestone in a wild graveyard. So often other viewpoints of other gravestones would have made an excellent photographic record but I was forced to settle, even compromise, with my brief. Frustrating as it was, it was also made the more rewarding, my eye was forced to work harder. Fortunately these peaceful places helped with keeping the mind free of distractions.
Here are a few of the images published in the book.
| | |
| --- | --- |
| | |