GWRYCH CASTLE, Abergele, Denbighshire 2005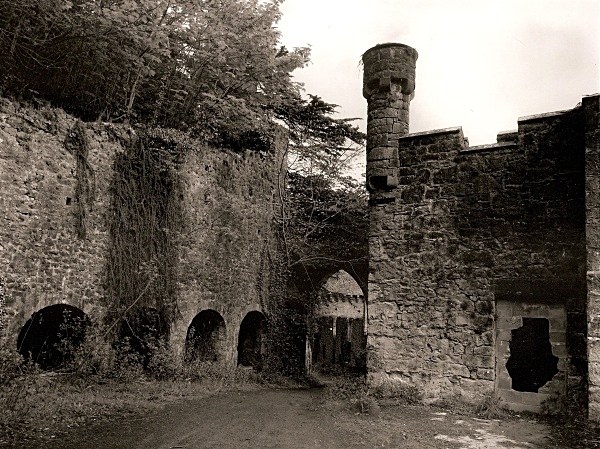 Notes on GWRYCH CASTLE, Abergele, Denbighshire 2005
An eerie, melancholic sight overlooking the Irish Sea. Gwrych is a mock castle built 1819, its history is a short one and after few private owners, was opened up to the public from 1948 until 1985.
It has been, as often the case, left to the elements and worse still, the vandals. Once left empty, with security packed up and gone, some local residents set about sealing Gwrych from the weather and the boredom and greed of vandals. But it was a battle they seemed destined to lose: though there has been much talk of restoration, with each winter that passes more and more of the castle is lost.
I spent a good afternoon at Gwrych. I had seen many images, recent and old, and had wanted to find the image that captures the atmosphere of a ruined building that a general view can but rarely encapsulate.
A large castle, it's front a quarter of mile in length.
My peaceful Sunday afternoon was pierced by occasional shouts and blasts of music caught on the wind. Someone, somewhere within the castle was having some kind of party. I tiptoed around, a little nervous and intrepid, until that is, I reached the entrance and came across another party, a small group of people and a photographer, with a young couple having their portraits taken. Gwrych had become a strange community. No longer witness to class prejudice, and even when officially opened to the public, no longer a tourist haunt. It was an odd afternoon.
I am unsure of what the future holds for Gwrych. It is too large, too solid, too castle-like to be ignored and forgotten for much longer. I do not believe I came anywhere close to capturing Gwrych at its best.
It was purchased again recently and work has begun to restore and to be used as an hotel.
Gwrych Castle 2004
| | |
| --- | --- |
| | |