LLANGENNECH PARK HOUSE, Llangennech, Carmarthenshire 2005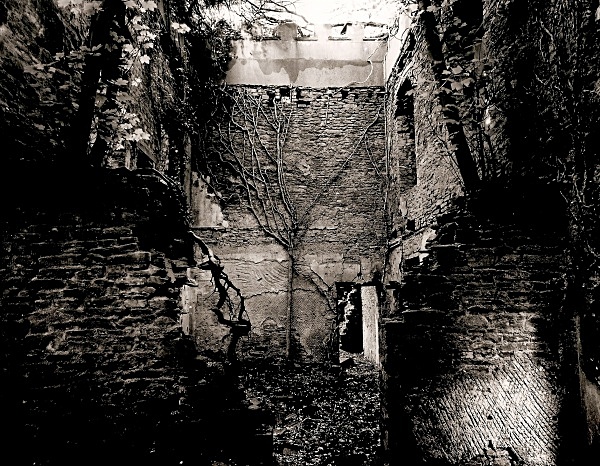 Notes on LLANGENNECH PARK HOUSE, Llangennech, Carmarthenshire 2005
I was unsure what to expect as I drove through the new housing estate and up to the wooded area where Llangennech House stands.
I had seen an old photograph of the large castellated house and in my research had read that some of the house remained, but I was still unsure if I would find anything at all. After a short search I stood at the tip of an approaching housing development. I saw workmen to my left building part of the new estate and almost presumed that the house I sought would have been demolished many years previous. I was thankfully wrong.
The house stood partially hidden by overhanging trees. The ruins were enormous and eerie with extensive outbuildings littered with dead caravans, one though uninhabited had a radio playing, probably 24 hours a day, 7 days a week. There were also wreckages of fire engines, boats and other farm machinery. All in ruin, and no doubt, will eventually be swallowed up by the fast approaching urban tide.
The house, like so many of the properties I'd visited, felt out of place in it's new urban setting. Neglected and ignored for many years it was hard to imagine that soon, if it remained, it would be known as the old haunted house up the hill, the one where neighbourhood kids would at first be afraid to enter, but when they did compose themselves, would perhaps become kindly acquainted with and would remember fondly for the rest of their lives.
Llangennech Park House was previously owned by the Earl of Warwick, circa 19th century, when it was enlarged, only modestly, to the size it is today. During the Second World War it was taken over by the government and thereafter abandoned.
Llangennech Park House 2005
Llangennech Park House 2005
Llangennech Park House 2005
Llangennech Park House 2005
Llangennech Park House 2005
Llangennech Park House 2005
The link below will lead you to an external site and show recent images of Llangennech Park House...
http://www.derelictplaces.co.uk/main/showthread.php?t=13845
TY PARC LLANGENNECH. Llanqennech, Sir Gaerfvrddiri 2005
Doeddwn i ddim yn siwr beth i'w ddisgwyl wrth imi yrru drwy'r stad dai newydd i fyny at yr ardal goediog lie saif Ty Llangennech.
Yr oeddwn i wedi gweld hen ffotograff o'r ty castellog mawr ac yn ol yr ymchwil a wneuthum yr oedd rhywfaint o'r ty'n dal i sefyll, ond nid oeddwn yn sicr a fyddai dim ar ol i'w weld o gwbl. Ar ol chwilio am ennyd fer safwn ar gyrion datblygiad tai. Gwelwn weithwyr ar y chwith imi wrthi'n codi rhan o'r stad newydd a bron na allwn daeru bod y ty wedi ei ddymchwel flynyddoedd yn ol. Diolch byth nad felly y bu.
Roedd y ty wedi ei guddio gan goed a oedd yn gorhongian. Roedd yr adfeilion yn anferth ac iddynt naws annaearol a thai allan helaeth.
Codwyd Ty Llangennech ym 1805 ac arferai fod yn eiddo i larll Warwick, ac ef a estynnodd y ty i'w faint presennol. Yn ystod yr Ail Ryfel Byd meddiannodd y llywodraeth y ty ac mae wedi bod yn wag ers hynny.
| | |
| --- | --- |
| | |
Comments
By Nic Daniels:
I was brought up in Llangennech and remember Park House, Park Farm and Llangennech House (all in the same glorious parkland) before the new housing development was built. It was an absolute disgrace that they had permission to build there. The history surrounding the estate goes back hundreds of years. If you take a trek up the hill, across the new link road, and into the field that has two or three square groves of old trees, in one os those groves you will find a huge marble swimming pool that the gentry who lived there used for bathing in summer! So much history and archirecture swallowed by a rash of red bricked, mock tudor monstrosities.
By colin benson:
Having stumbled upon these derelict buildings over the Christmas break I was shocked to find so many just falling apart something like LOTTERY MONEY should be put to one side and bring them back to life, also giving our builders some thing to do in these poor times for them.
By Ian Morlais Williams:
This is the reply I received from Carmarthenshire County Council. Thank you for your e-mail of the 3rd January 2011 and apologise for the delayed response, at present there is considerable interest in historic buildings which have resulted a large number of queries. The County Council has no power to list a building; that power lies solely with the Welsh Assembly Government and have copied this e-mail to Cadw for their information.. In reviewing the file the authority hold on the building I note the County Council's Conservation Section brought the property to the attention of Cadw in June 1998, but following an inspection, Cadw decided not to list the building. Notwithstanding the above, the Conservation Section also tried to persuade the then owner not to demolish the building. The building is not therefore listed nor lies within a conservation area. Although of historic interest, the condition and lack of conservation status means that, as with a large number of other similar buildings, it would not have any priority if money becomes available to restore historic buildings in the County. I'm sure you will appreciate that even in the good financial times there is insufficient money to repair and maintain all the listed buildings let alone non listed buildings. I'm sure you will be disappointed with this reply, but will again appreciate that the Authority is not in a position to do more to safe guard historic buildings given the limited resources available. . Eifion Bowen Pennaeth Cynllunio / Head of Planning