LLYWNYWORMWOOD, Myddfai, Carmarthenshire 1996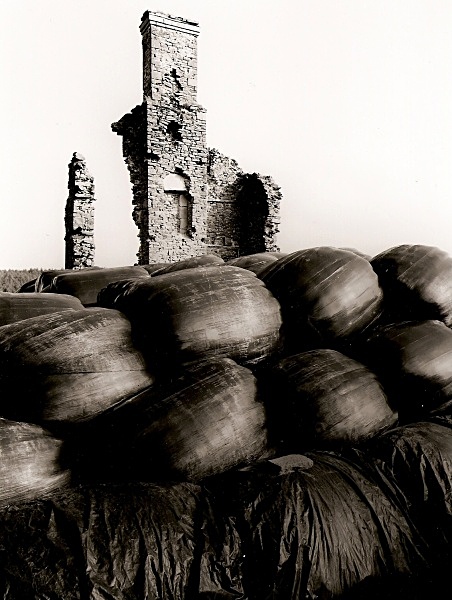 Notes on LLYWNYWORMWOOD, Myddfai, Carmarthenshire 1996
Llwynywormwood is a fine and celebrated park now in the process of restoration. The house, built circa 1775, incorporated influences from many periods and the day i visited stood as a dramatic silhouette on a hilltop.
When I visited very little remained save for the end ranges with very precarious chimneys, but signs of a once splendid house were still scattered across the estate.
Vacated in 1907 and since, after the sale of the property and its contents, left empty and open to the elements.
The ruins are now owned by the Prince of Wales who purchased the adjacent farmhouse in 2006.
Llwynywormwood 1996
Llwynywormwood 1996
Llwynywormwood 1996
Llwynywormwood 1996
LLWYN Y WERMOD. Mvddfai. Sir Gaerfvrddin 1997
Mae Llwyn y Wermod yn bare braf ac enwog, ac mae'r tiroedd wrthi'n caei eu hadfer ar hyn o bryd. Codwyd y ty oddeutu 1775 ac mae'n cynnwys dylanwadau o gyfnodau gwahanol. Safai megis cysgodlun dramatig ar ben y bryn.
Pan ymwelais a'r lie ychydig iawn oedd yn weddill o'r ty ac roedd y simneiau'n sigledig iawn, ond gallwn weld olion hen dy ysblennydd wedi eu gwasgaru ar hyd y stad.
Mae'r ty wedi bod yn wag ers 1907, ac ar ol i'r lie a phopeth a oedd ynddo gael ei werthu, fe'i gadawyd yn wag ac yn agored i'r elfennau.
Bellach mae'r adfeilion yn eiddo i Dywysog Cymru a brynodd y ffermdy cyfagos yn 2006.
| | |
| --- | --- |
| | |