MAESGWYNNE BARN, Llanboidy, Carmarthenshire 2001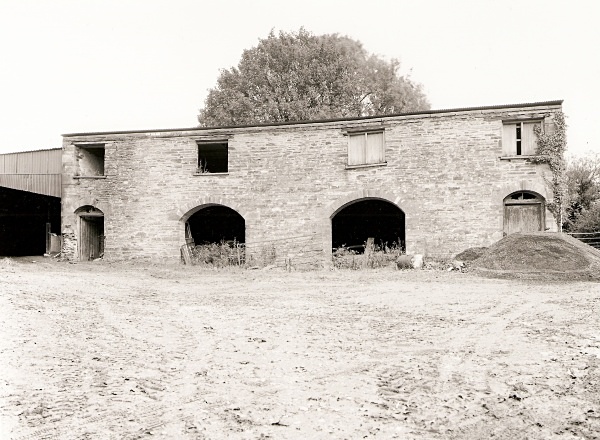 Notes on MAESGWYNNE SERVICE QUARTERS, Llanboidy, Carmarthenshire 2001
I parked my car and walked down the towards the house - large barns still stood and as i walked towards the house, dogs barked aggressively - as any dog whose territory is threatened - from the barns. I expected to be questioned why i was walking through but was not approached.
I had imagined how Maesgwynne would look. I knew it was derelict and had seen a small photograph in 'The Lost Houses of Wales'. I pictured a moderately large house, not dissimilar in size to Llanerchaeron near to Aberaeron, which would, in my imagination, would be roofless and all but obscured with roof-high foliage, brambles and nettles. Unfortunately I found various vehicles, diggers, caravans and a crater in the ground. I didn't want to believe that this crater was what was once a fine looking country house. But no amount of disbelieve can rebuild stone and mortar and Maesgwynne had indeed, unlisted, been demolished.
Last year I was kindly sent some images from someone who had visited Maesgwynne, and many of the other mansions I had also visited, when it still stood, derelict – although not covered in foliage as my reverie had conjured but show a roofless shell with a large porch entrance. The interior was a mass of stone and wood. There was something about Maesgwynne that fascinates. It's location and its modest size makes one feel that living at this sight would have been a pleasurable experience. The photograph here shows the symetrical barn - an image quickly taken due to a sheep dog barking constantly whilst i was there.
Maesgynne Service Quarters (now demolished), house also demolished.
| | |
| --- | --- |
| | |
Comments
By Chris Murrell:
The stone barns that were in a bad state of repair have been preserved, as has the small cottage described here as servants quarters. Far from being demolished it is now a 3bedroomed family home. Unfortunately the mansion was delisted and a demolition order put on it because it was in such a dangerous condition. The crator that you saw is now a pond, and was once where the mansion cellars were.
By Kaye phillips:
Remember cutting hay in the field on front of the mansion in the early 1970s