PALACE THEATRE, Swansea 2017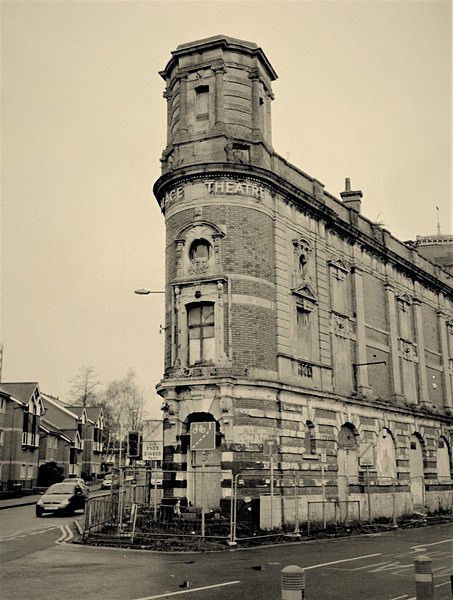 Notes on PALACE THEATRE, Swansea 2017

Taken from Wikipedia:

The Palace Theatre is a building located at the northern end of High Street, Swansea, Wales, recognizable for its distinctive wedge shape.

Originally built in 1888 as a traditional music hall, the building's original name was the 'Pavilion'. During its lifetime, the building has been used as a bingo hall as well as a gay nightclub.

The Grade II Listed building is one of just two purpose-built music halls left standing in the whole of the UK.

In the early years of the 20th century stars like Charlie Chaplin, Lilly Langtry, Marie Lloyd and Dan Leno filled the venue.

Sir Anthony Hopkins made his first professional stage appearance there in 1960 with Swansea Little Theatre's production of 'Have A Cigarette'

Also in the early 1960s, Morecambe and Wise were booked. Ken Dodd was the last stand-up comedian to appear there before it became nightclub in the 1970s.

It was also the first place in Wales to show a silent picture and remained undamaged by the blitz that destroyed much of Swansea city centre during the Second World War.

The ground floor bar and lounge was used as a licensed pub for many years before closing.

Eventually the theatre was sold for £300,000 to a property company, but in 2010 it was still derelict and actor Edward Fox joined a campaign to have it restored.

New campaign
In 2014, a new campaign was launched on Facebook.


High Street in 1915
In April 2014 Swansea Council made £75,000 available to the owners to carry out work on the High Street theatre, which had been named as one of the 10 most endangered Victorian and Edwardian buildings in England and Wales. The Victorian Society called it "a victim of urban decay", and the Theatres Trust commented in 2013 that, if left, the building might well collapse. The council funds were earmarked for "emergency works", including making the building watertight, removing vegetation and removing loose brickwork that could be deemed "unsafe". By September 2014 the council was issuing a reminder to the owners that the work needed to be completed promptly.
| | |
| --- | --- |
| | |