PEMBREY CWRT / COURT FARM, Pembrey, Carmarthenshire 2009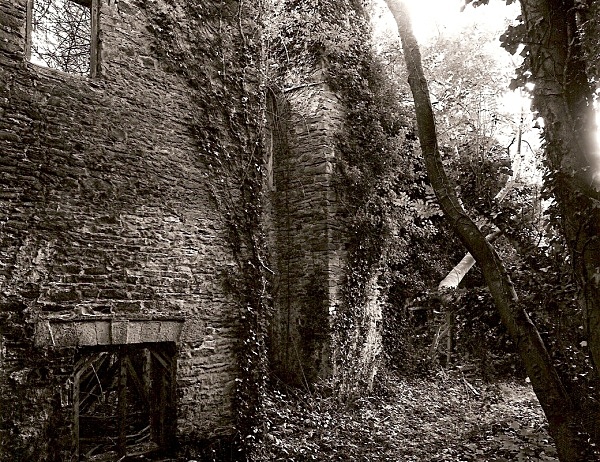 Notes on PEMBREY CWRT / COURT FARM, Pembrey, Carmarthenshire 2009
There has been much talk over the years of Pembrey Cwrt being restored including recently put forward, and was unfortunately rejected, into the Welsh category to the BBC Restoration program. I had visited before in 1997 and was uncertain what I would find 13 years later. Would the ruin be consolidated, the grounds cleared, the medieval barn under scaffolding?
How sad to report that Cwrt is all but completely lost in the undergrowth and ivy, further slipping back down into the earth. Even the vandals and bored local kids seem to have abandoned this impenetrable large and lost carcass.
I took a few photographs my first visit and again, due to lack of any clear view of any walls or chimneys I only made two exposures. I had however forgotten just how large Pembrey Cwrt actually is. Rooms and extensions weave in and out, a wooden wall cupboard sits almost complete in a recess in a first floor rear room. Beams hang dangerously overhead, aged and redundant. Slates scatter the floors and the roof is now completely slate-less. Stone mullion and wooden window frames remain, a stone fireplace partially bricked up, spilling the remnants of birds nests onto the ground. All dark and depressing, abandoned in the 1950's/60's, and one can not help but wonder if this house will ever be saved.
A wonderful photograph can be seen in Thomas Lloyd's 'Lost Houses of Wales' and there is also a fine drawing of the house from 1898 in 'The Buildings of Wales: Carmarthenshire and Ceredigion' also by Thomas Lloyd (and Julian Orbach and Robert Scourfield). In this volume it wrote that the RCAHMW (Royal Commission Association of Historical Monuments of Wales) 'concluded that the core is probably a medieval tower attached to a first floor hall reached from an external stair from the north' and that the barn (now completely overgrown and barely visible) 'incorporating a thick corbelled and embattled wall of possible former gatehouse'.
Pembrey Court 1997
Pembrey Court, Carmarthenshire 2009
Pembrey Court, Carmarthenshire 2009
Pembrey Court, Carmarthenshire 2009
| | |
| --- | --- |
| | |
Comments
By chris tomlin:
stunning pics of Cwrt Farm m8y,,, I will be supervising the clearance of the site before renovations can be started,,, will show these 2the team, thanx paul
By jordan:
it looks goood can i have it for 1 pound
By Steve Othen:
It's a real shame when I see things like this going to ruin. CADW listed my house as its an original shape only. This has historical heritage importance. Put it back to its former glory hopefully one day.
By Ian:
can I help
By Brian Gower:
Recently discovered that my x 4 great grandmother Mary(Thomas)Wiiliams (1771/3 to 1847) was born there. Would be wonderful if it could be restored in some form.