CEFN GARTH UCHAF, Ceredigion 2011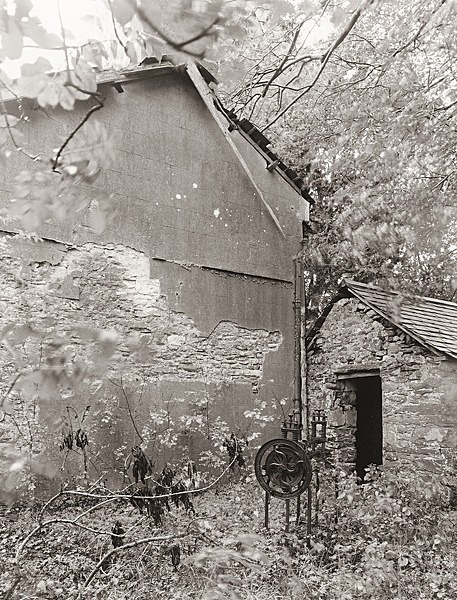 Notes on CEFN GARTH UCHAF, Ceredigion 2011

Lost beneath high thin trees and thick matured redwoods, Cefn Garth is a surprisingly large property.

As I reached the house I was joined by some spectacularly heavy and persistent rain. I took cover within the house and explored its many rooms.

I set up my camera and took a photograph of the entrance and staircase. A long exposure of 30minutes.

Within is dark, nearly all the windows are boarded up with only thin slivers of light penetrating the spacious rooms. Holes in the roof had begun to leave a trail of destruction within the house, the dampness cutting a hole through floorboards and walls with a hole from the far west chimney that bears down all the way through to the ground floor floorboards.

In one room, a study(?) with French doors, were scattered across the floor many dozens of books with many hundreds of pages strewn uncaringly and an easy chair and a chest of drawers without the drawers.

In another room a wooden fitted alcove cupboard, it's doors hangings from its hinges and its contents all gone, lost or stolen.

The 30 minute exposure was over, 30 minutes can sometimes pass very quickly. I had trodden softly on beams and rotten floor board and comically attempted to spread my weight the best I could but not at all comical if a foot falls through a paper-thin first floor floorboard.

Outside the rain persists. The tree cover offers some shelter and further exposures are made (and even at 10am on a mid-week morning in October, exposures are still 4 minutes long at F22).

The intrigue of this house defuses any irritation with the weather.

The house was too long for me to fit, onto film, in its entirety.

Outbuildings set back.
| | |
| --- | --- |
| | |