BLAEN GORFFEN, Pontrhydfendigaid, Ceredigion 2011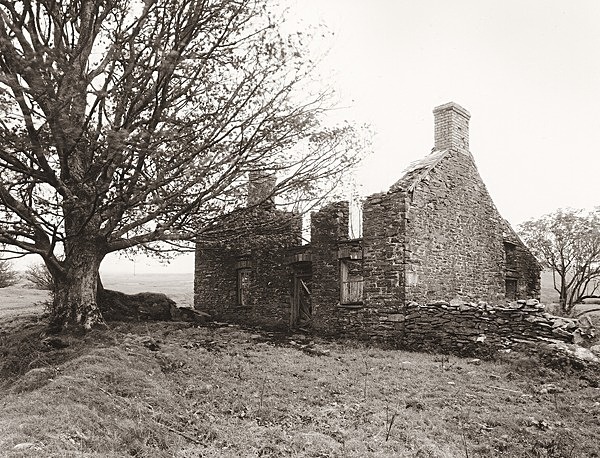 Notes on BLAEN GORFFEN, Pontrhydfendigaid, Ceredigion 2011

High, exposed and dramatic. Blaen Gorffen was, on this day, a blustery but delightful site.

The wind did indeed blow hard and the sky thickened with dark cloud but the rain held off.

The sheep scattered as I approached the house and outbuildings. Views opened up over Tregaron Bog and across towards Pontrhydyfendigaid and Ystrad Meurig. I made some slow careful exposures and enjoyed, devoured the views (why snatch when stationary?).

The house and outbuildings look the worse for wear. The house all but fallen with the last slates just beginning to complete this desolate picture. A cast iron bed acted as a doorway and to halt any intruder into the house. But what was there to see within? A pile of rubble and stone and two fireplaces. I resisted the temptation to cross the cast iron bed threshold.

A pig pen sits down beside the back of the stream that runs in front of the house, roofless and ruined. Some of the extensive outbuildings are still in agricultural use.
| | |
| --- | --- |
| | |