DOLWEN, Devil's Bridge, Ceredigion 2011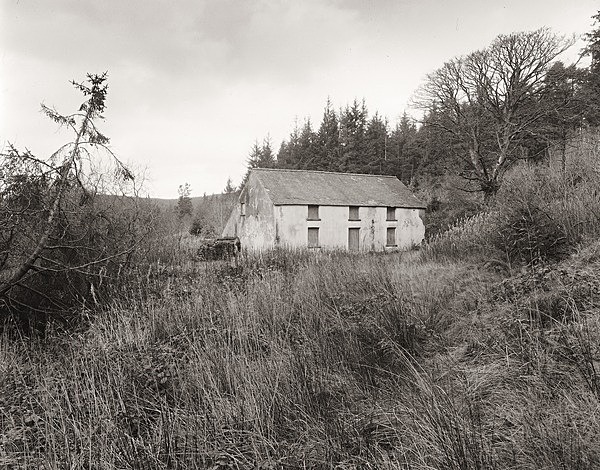 Notes on DOLWEN, Devil's Bridge, Ceredigion 2011

Standing in the centre of hte Myherin Forest is Dolwen - it has stood empty for a number of years now, its last use a bothy but now structurally in an ever increasing ruinous state. Large cracks are appearing one gable end and holes in the roof have begun to rot the house within.

Inside the colourfully painted walls and staircase are a stark contrast to the obvious decay. All the windows are
boarded up - all except the rear door which had been kicked down and this was where I gained entry - leaving many rooms in total darkness. And in these dark rooms a large fireplace with fallen bird nests, sofas, chairs, tables and beds. All unwelcoming and if left untouched this house will soon become another roofless, damp shell.
Comments
By Tony Hurford:
Ilived with my mum and dad in Dolwen .we moved from stone staffordshire, i would have been 10 years old 1946-47 we had the bad snows then that year i went to school in ponterwyd with my brother from dolwen. regards Tony H. NZ
By Tony Hurford:
Ilived with my mum and dad in Dolwen .we moved from stone staffordshire, i would have been 10 years old 1946-47 we had the bad snows then that year i went to school in ponterwyd with my brother from dolwen. regards Tony H. NZ
By jim hurford iij:
m ponterwyd y name is jim hurford i am the eldest of the hurfords the snow of 46 47were bad we were snowed infor weeks my mother went for many miles for bread for the family we moved soon after to