DOL-Y-GAER, Crickhowell, Brecknock 2012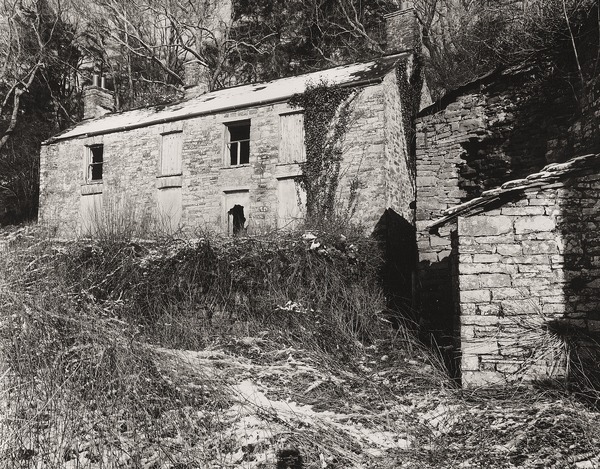 Notes on DOL-Y-GAER, Crickhowell, Brecknock 2012

A long ruined longhouse. The walk up from Crickhowell isn't long and although rises steeply, is not too strenuous even with 20 kg of camera equipment. Dol-y-Gaer stands alongside the footpath that climbs to Crug Hywel Mountain in the Brecon Beacons. The views, as one would expect, are stunning but on this snowy & frosty day the winter sun struggled to burn through the morning haze.

The main house, according to research on the internet, was built to replace the smaller dwelling seen here, facing west. This older, smaller dwelling is now used as agricultural storage and has a metal roof, as does the long barn beneath it, to protect it from further deterioration. The main house, although once boarded up has been broken into, with the boards kicked/smashed in and within, some furniture remains, all messy and uninviting. The staircase has all but collapsed and I declined the option for climbing them and seeing further debris in the upstairs rooms. Downstairs, the front door opens into the living area and a corridor run along past the kitchen and into a dining area. A strange design, when compared to many other longhouses, and I wondered if extensions or renovations, long ago, had caused this peculiar design.

As the ice and snow thawed from the roof it ran down from where the drains had come apart and this constant trickle of water was the only sound to be heard, that and the birds and far away sheep bleating. Everything was still and silent and I took a number of images. The still morning was unbroken and after I had used up the remaining film I had I folded my camera up and packed it back into my bag. On the slippery walk down I met five different groups of walkers. I was pleased not to be disturbed whilst photographing but was more than happy to stop and talk in the way back down to Crickhowell.
| | |
| --- | --- |
| | |