GELLI-GARED, Crynant, West Glamorgan 2012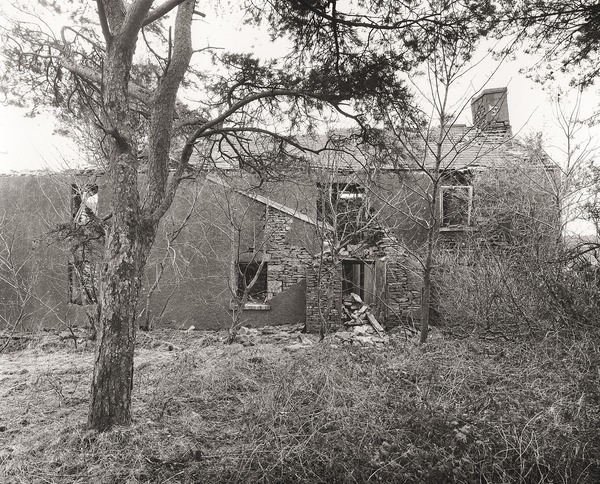 Notes on GELLI-GARED, Crynant, West Glamorgan 2012

Between the months of December and the end of March are my favourite months to photograph.

To visit Gelli-Gared on this March day provides the evidence. Other than a few conifers, all the leaves that cling steadfast to all the million of tiny branches have all fallen and decomposed back into the soil to form more soil.

All those million of tiny branches; the minor bones of a tree or bush are there to capture onto film. The day of my visit was cloudy. The grey rendered walls of the house; the grey wall of stone of the many outbuildings; the greyness of the ground, the tired foliage; the browned bramble that rose some 6 foot high and covered huge swathes of ground around the properties seen here - All is recorded in a uniform tone of grey upon the film surface and seemed a fitting tribute to this once fine farmstead.

Built in the 17th century and standing high on a hillside overlooking the village of Crynant, Gelli-Gared has a remarkable range of buildings all surrounded by a wall enclosure.

Within the main house, the fabric of the building is revealed. The plaster is soft and covered in graffiti ('Alan was here 1999'). A multi-textured sight: A-frames sagging under the weight of a damp roof and the sodden window lintels warping under the pressure of heavy damp walls. The yearly cycle of weeds filling empty spaces; clinging and poking through mortar, gaining purchase, strangling beams, pulling down window frames; a battle they shall one day win - not that the plants know of their future victory, it is a destructive by-product of a greater battle they wage, that of survival.

And of all the things one could write about this spectacular enclosed farmstead? The brambles.
What can be said? That they have 'spread like wildfire' or they are 'rife in their uncontrolled corruption'? Without tool or weapon, man is ineffectual, entrance is futile. They defend this crumbled property simply and effectively. I decided to photograph from a safe distance. Their barbs rip clothing, rip skin and I wanted to walk back down into the village of Crynant like I had been merely taking a peaceful walk around the countryside of the Crynant Forest.
| | |
| --- | --- |
| | |
Comments
By EMYR WYN HOWELLS:
My Great Grandfather Thomas Evans was a tenant farmer in Gelli Galed between the First World War and Mid 1950's.The farm lost a lot of land to the Forestry Commission after the Second World War making it very difficult for Thomas Evans to make a living so he left around this period.The rent also trebled for the next tenant making the farm more uneconomical.