TY'N YR HEOL, Tonna, Neath, West Glamorgan 2012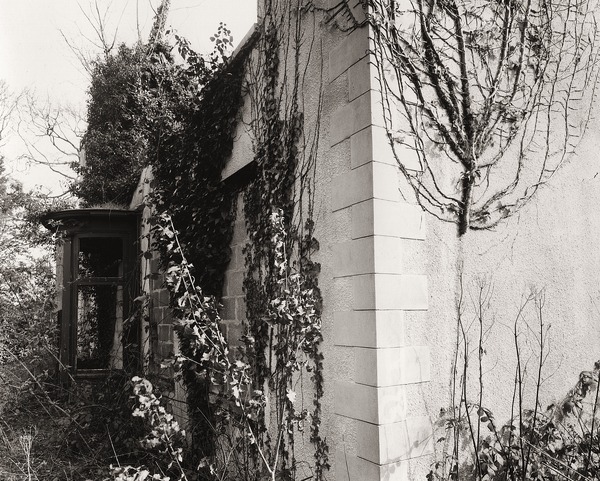 Notes on TY'N YR HEOL, Tonna, Neath, West Glamorgan 2012

This house, on the Neath Road, Tonna, was the victim of a fire some years back. It was built circa 1700's as a private residence (there's an excellent photograph of it on the 'Royal Commssion on the Ancient and Historical Monuments of Wales' website) and then latterly as a ladies seminary.

Nature, perhaps as in God, saw fit to reduce and return this house, its grounds, back to the earth. Today, the façade has all but crumbled away. The red brick structure, built in the 1920's, glowed in the afternoon, early spring, sunlight. This red brick section seemed well built and salvageable, what a shame it felt more of an industrial addition rather than an aesthetic one.

The main house looks as if it has imploded. The cellars filled in with rubble, broken furniture, white goods. I think a potholer could have unrivalled access if a potholer did indeed fancy a different kind of danger, with a more human kind of view and the destructive force of nature. The outer walls, although remain high on three sides, have all but gone on the frontage. This façade stands only a few yards away from the road. And whilst walking along the road and following the stone wall that stands around it perimeter, one cannot but wonder why this house, so openly accessible, has not seen greater vandalism. Is it because it offers the vandal nothing new? Have all the rooms within been explored and trashed, tagged with graffiti and the windows smashed? Well, actually no, peering in through the ground stair windows it would appear relatively untouched. Is it too well known, to the locals, to bother to cast a bored eye upon? I do not know.

It was new to me. I have known of this property for many a year but have chosen, although not exclusively, to photograph more rural properties. The empty houses in towns and cities (of Wales) is a whole new project. This one already feels like a lifelong endeavour.

This house, on Neath Road, Tonna, has reached the end of its life. It does not seem worth salvaging. Restoration seems unlikely. It is beyond repair. It left me thinking that demolition then a complete re-build would be the preferred path to follow. That is, if I were a property developer, or builder, or architect (but perhaps a gradual restoration for the historian).

In its prime this was an attractive, well-proportioned property. Although my visit was a short one, only a few short hours were spent searching for viewpoints and exposing a few sheets of film, it was still a worthwhile visit. Within the grounds, other smaller ruined buildings too, their former use indistinguishable but I presume once were stables and service quarters. All overgrown with mature hardwoods, a prominent monkey puzzle and rampant rhododendrons.
| | |
| --- | --- |
| | |