LLANSTINAN HOUSE, Llanstinan, Nr Fishguard, Pembrokeshire 2005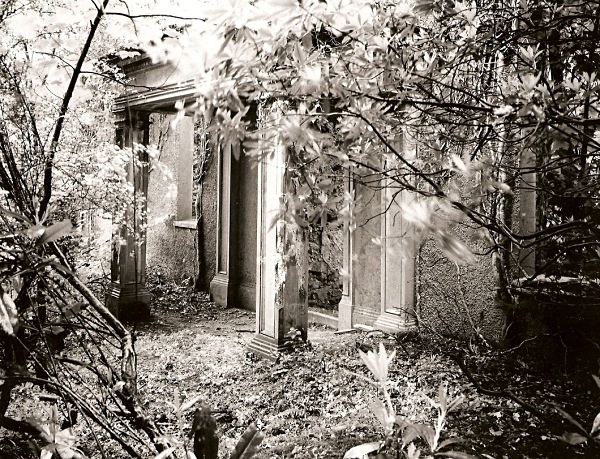 Notes on LLANSTINAN HOUSE, Llanstinan, Nr Fishguard, Pembrokeshire 2005
Late May, early morning, a heavy drizzle blew around me as I walked along the over-formed yet revealing pathway, over a tumbled bridge and a gentle stream towards the ruins of Llanstinan House.
I was unsure what remained, so often the case very little, perhaps a few tell-tale signs; a pile of rocks, a crater forming a pond due to demolition or a new bungalow sharing a demolished mansions name.
Llanstinan House 2009
Llanstinan House 2009
Llanstinan House 2009
However, as i walked along the winding path occasional views were partially snatched through the wilderness of exotic trees and common overgrowth and on to the large ruins of Llanstinan House.
Once proud with its terraced garden, now all tangled and overgrown, Llanstinan crumbles damp and dark. A small square pillared portico dated 1905 opens into the house, a high four storeys as well as a basement (all caved in). The rear walls are slate clad with ivy ripping apart the slates and mortar and as ever, water dripping from high above.
The walled stables and service wings are all ruined, damp and unfriendly. The house was built on an old site in 1680 and throughout its life has been continually altered but eventually was burnt down in the 1940's.
I spent a number of hours at Llanstinan, surprised by its size and although relatively close proximity to a village, untouched by vandals. A fascinating, mysterious place.
Llanstinan House 2009
TY LLANSTINAN. Llanstinan, Aberqwaun. Sir Benfro 2005 & 2009
Yn gynnar un bore ar ddiwedd mis Mai a glaw man trwm yn chwythu o'm hamgylch, cerddais ar hyd hen Iwybr a oedd yn llawn llystyfiant tuag at adfeilion dirgel a chyfareddol Ty Llanstinan.
Ar un adeg, roedd gan Dy Llanstinan ardd deras odidog (mae rhes hir o balmwydd yn dal i sefyll wrth ymyl y ty), ond erbyn heddiw mae wedi tyfu'n wyllt. Mae'r Ty Llanstinan llaith a thywyll bellach yn adfeilio. Colofnau portico sy'n eich croesawu i'r ty. Mae pedwar llawr i'r ty ynghyd ag islawr (pob un wedi mynd a'i ben iddo). Gorchuddiwyd y waliau cefn a llechi ond bellach mae iorwg yn rhwygo'r llechi o'r morter. Hefyd, mae'r dwr yn diferu i lawr.
Mae pob un o'r waliau o amgylch y stablau a'r esgyll gwasanaethu yn llaith, yn anghynnes ac wedi eu difetha'n llwyr. Adeiladwyd y ty ar hen safle yn 1680 a thros y blynyddoedd, cafodd ei newid yn rheolaidd. Yn y pendraw, llosgodd y ty yn yr 1940au.
Comments
By Sharon:
I have fallen in love with your site, your photos are absolutely breathtaking. Thank you so very much for sharing these wonderful places, makes me feel like I am there...