BERTHOLEY, Llantrisant, Gwent 1997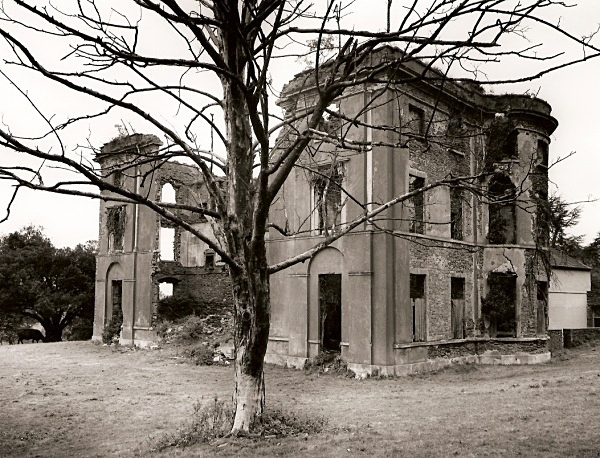 Notes on BERTHOLEY, Llantrisant, Gwent 1997 (restored 1999)
Bertholey is situated in a quiet park with wonderful views over a loop in the river Usk. It was rebuilt circa 1790 - the cause of the initial dereliction in 1905 as often the case, a fire. A relative of the owner, drunk, accidentally set fire to the house. It had been left a shell since then.
In its present state, with the mid-range collapsed, one wonders how much longer Bertholey will be allowed to stand. A house attached to a rear wing is still inhabited - a strange set up considering the vulnerability of the property.
With an intricate wrought iron fence and gate surrounding the house and the lawn neatly kept, respectably so by sheep and cows, it was not impossible to imagine Bertholey as a fine building of some stature in its heyday.
A number of exposures were made but i struggled to find the true essence of the house - it lacked the mysteriousness of many ruins but of course this could be down to my own personal feelings on that day, or even the weather. The most successful image was this one, with a bare tree more or less smack bang in the centre of the frame obscuring the mid range (although collasped).
I have only recently discovered that the house was beautifully restored a year after this image was taken.
Bertholey 1997
Bertholey 1997
Bertholey 1997