BLAEN BAGLAN, Baglan, West Glamorgan 1997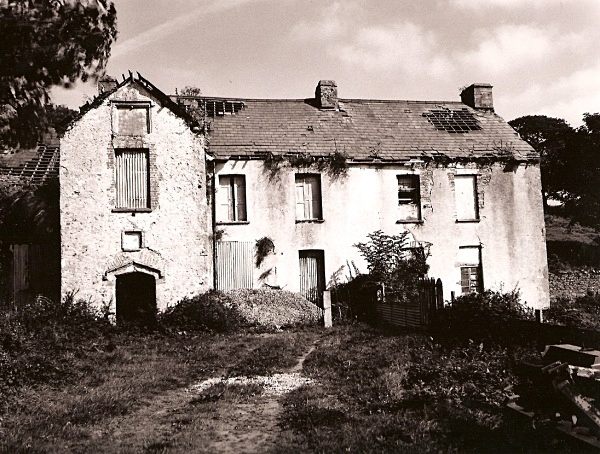 Notes on BLAEN BAGLAN, Baglan, West Glamorgan 1997
A very derelict, very early 17th century house situated high above the Baglan suburb, a couple of miles north of Port Talbot.
The owner at the time appeared to care little for the house and was apparently a man of some temper. I was told he lived beside the house in a small modern cottage.
I stood at the front door, wide eyed and then youthful, and I knocked on the cottage door with apprehension but noted the curtains were pulled and although the garden was well maintained the cottage too lay empty with rips in the net curtains and a small sapling growing in a drain.
I imagine i made a few relieved sighs and then a made few quick exposures of the exterior of Blaen Baglan and I was on my way again. I can and do sympathise with owners of these mansions - the time, effort and finance of restoring such properties must be enormous. Even wishing to contain the dereliction is a major project and not one to enter lightly.
The roof of Blaen Baglan, although mainly slate-less, had begun to waver and I suspect since I took these images has come down. A date stone mounted above the doorway was long gone. An intriguing but sorrowful pile.
Blaen Baglan 1997
Blaen Baglan 1997
Blaen Baglan 1997
| | |
| --- | --- |
| | |
Comments
By Mrs.Trish Lees:
Beautiful photo's! our family have 'heritage links' to the property - sadly, we are all in Australia but VERY interested in ANY information anyone has. or would like to share - xxx
By Mrs.Trish Lees:
Beautiful photo's! our family have 'heritage links' to the property - sadly, we are all in Australia but VERY interested in ANY information anyone has. or would like to share - xxx
By Mrs.Trish Lees:
Beautiful photo's! our family have 'heritage links' to the property - sadly, we are all in Australia but VERY interested in ANY information anyone has. or would like to share - xxx
By alex:
Yes, my family too has links: my great great great great grandfather Lewis Thomas (1735-1817) lived here but I am not sure whether any of his children lived here too, I suspect they may have