PIGEON HOUSE, Cilwendig House, Boncath, Pembrokeshire 2004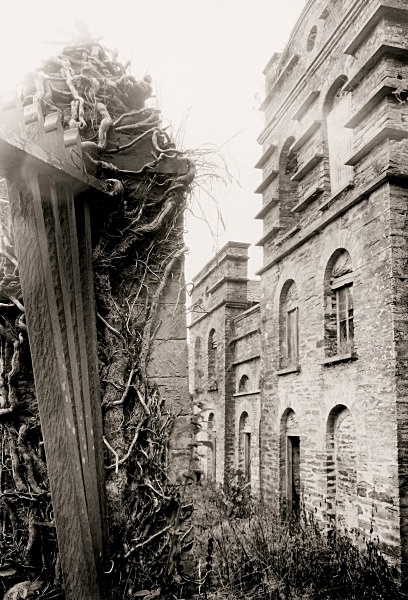 Notes on PIGEON HOUSE, Cilwendig House (not derelict), Boncath, Pembrokeshire 2004
This is a mock-gothic pigeon house that sits at the rear of the farmhouse on the Cilwendig estate. It dates back to 1835 and was home to doves (in the tower) and chickens, turkeys and pigeons (in the lower quarters). It has many arched windows and doors and whilst standing beside this extravagant bird house one feels an odd sense of scale. The windows and doors are small, yet the building itself towers above you. Surrounding the Pigeon House is a 6 foot iron railing which again aids the oddness of the scale of the house since the ground floor is set low on a basement level.
There is much interest in this and the present restoration of the grotto (a small marbled house covered in large shells, bones and even animal teeth - see a colour image in the 'Introduction' page on the main menu). The shell grotto was built before the Pigeon House in the late 18th century and used to have a domed roof which collapsed and was replaced with a cheaper flat one.
With hope the Pigeon House will also be restored as dereliction threatens. Long in agricultural use, it typifies the hidden treasures that can be found in Wales, be it grottos, monuments or houses - large and small. The Pigeon House, if unprotected could be further swallowed up by farm buildings and as total dereliction looms it would be a great loss.
This closely cropped image has fallen victim to alittle flare due to raindrops on the lens.
Pigeon House interior 2004
Pigeon House 2004
COLOMENDY. Boncath. Sir Benfro 2004
Dyma golomendy ffug-gothig sydd wedi'i leoli tu ol i'r ffermdy ar ystad Cilwendig. Mae'n dyddio yn ol i 1835 ac roedd yn gartref i golomennod (yn y twr), i ieir, i dwrciod ac i golomennod dof (ar y lloriau gwaelod). Mae ganddo nifer o ffenestri a drysau bwaog ac wrth sefyll gerllawY colomendy teimlir syniad rhyfeddol o raddfa Mae'r ffenestri a'r drysau yn fach, ond eto mae'r adeilad ei hun yn ymddyrchafu uwch eich pen.
Mae arfdy sy'n berchen i'r ystad bellach wedi'i adnewyddu a gobeithio, gyda thipyn bach o Iwc, y bydd y Colomendy hefyd, sy'n prysur ddadfeilio, yn cael ei
adnewyddu.
| | |
| --- | --- |
| | |