ABERPERGWM, Glyn Neath, West Glamorgan 1997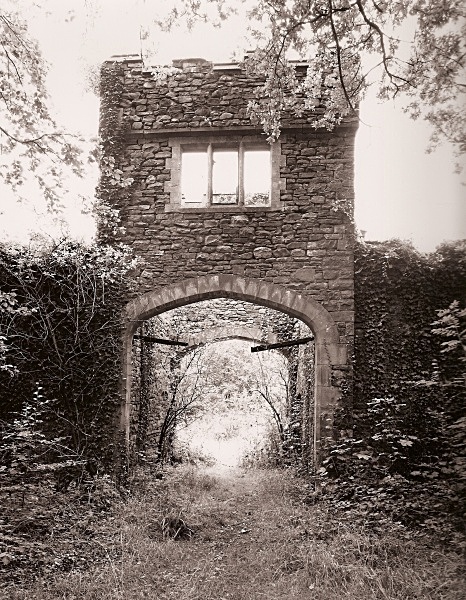 Notes on ABERPERGWM, Glyn Neath, West Glamorgan 1997
I recently visited this house (build 1560 on a former site) again and was shocked by what I saw. So much had fallen in just 6 years.
This property, still owned by the Coal Board, lies beside a housing estate and with no security and with public footpaths circling the house, is an easy target for vandals. Very little remains and what does is all but invisible in the undergrowth. Much vandalised and surprisingly, considering its state and location, yet to be demolished, but it can only be a matter of time.
A fine wooden door/gateway lies in a pile with bramble coils wrapping themselves around the rotten joins and two medieval windows in the 1980's were discovered in the collapsing masonry.
For further information on Aberpergwm a good starting point would be the excellent book by Elizabeth F. Belcham 'About Aberpergwm : the home of the Williams family in the Vale of Neath, Glamorgan'.
Aberpergwm 1997
Aberpergwm 1997
Aberpergwm 1997
Aberpergwm 1997
| | |
| --- | --- |
| | |
Comments
By Roger Harris:
It is absolutely disgusting that such a beautiful historical house such as Aberpergwm has been allowed to deteriorate in this way. All who have been involved with the house from the owners, the NCB and aslo the authorities should be thoroughly ashamed that it has come to this. I can remember as a young person of the area working for the Forestry Commision helping out there with a function for officials and private landowners. It was beautiful inside and out in the grounds. It could have been used perfectly for a tourist attraction or museum
By B Williams:
this house was offerd to the council for a nominal rent per year of 50p and they could turn it into flats all they had to do was maintain the building
By S.Johns:
I remember in early 80's when contractors came to grounds to start work converting the house into a nightclub. It was said they quickly abandoned the idea as non cost effective.
By david henry bartlett:
I believe this is the same (BIG HOUSE")my grandmother (rose whitney)took me too in the late forties early fifties I can vaguely remember a conservatory with the venus insect catching plant.I to this day I do notknow the reason for our visit
By kaye Caradoc:
Just making contact as it seems relevant in my family history. ~What a beautiful house
By Susan Herbert:
I too agree with previous comments on the state and ruins that once was the envy of all. The NCB should have taken better care of this beautiful house when they used it years ago. Shame on all who could have saved this gem in the Neath valley . I too recal walking through the hous in the early 70's and seeing the beautiful stain glass windows portraying Henry and all his wives, also the beautiful ball room which one could only imagine how wonderful it must have looked in its heyday, what a pity what a shame. If I ever win the lottery this house will be rebuilt.
By Anonymous:
I can confirm that the house is not owned by the coal board and never was but it is still owned by the Williams family
By Nanna:
I to remember the manor house,when old Harry was the Gardner, the grounds were perfect he would say to us kids you can come on to the grounds but don't walk on the grass the manor was something for glynneath to be proud off our heritage, but someone let a family go in there supposing to look after it .what a laugh they stripped the lead from the roof and that was the start of its dimise so very sad shame on you and look at the state of it now it begs belef....
By Lewis:
I have lived in glynneath most of my life I am now 51 and I walk past this house most days and every time without fail I nod my head in disbelief anger and shame that the powers that be has let this piece of history just crumble to the ground I just don't understand why and I most probably never will shame on everyone
By Paul:
Apparently it was some man named jesset was in charge of caretaking. He allowed this start of the ruing you see today.
By Deb:
My father worked here when it was NCB in the sixties. It seemed such a huge long drive but when I returned as an adult there was not much there. I hope I can recreate it in on a story I am working on. Thanks for the photos
By Jean Casey:
Went to see this yesterday and was shocked to see the state of the place what a shame ,but on a brighter note was taking pictures of the church when the caretakers of said property asked if i would like to see inside what a beautiful church ,they also filled us in on the history of the Estate, the little grave yard. As a visitor i would like to thank them both for their kindness in opening the church for me
By Clare:
Disgraceful how this beautiful house has been left to rot I hope someone can save what's left, it would make a lovely park in memory of the Williams family ...as My last name is Williams too
By sally:
What happened to all the hand cut stone that was left on the floor after the house had to be knocked down for safety sake ?the person who had pigs on it sold it to challengher to build his own house with. shes local called andrea
By Big Dave:
This house was habitable just 30 years ago.. It shouldnt look any different today. What you see here is sheer vandalism and not natural decay.
By Amanda coy:
Its realy sad to see it in the state it is in and a great shame to the history of Glynneath. Would anyone know the address off the Williams family as i have a great interest with others from the village of the gardens and orchard think it would make a grate project for children and adults alike, i have soared a lot of info but the address. Thank you x
By Robert:
Those two morons who have it at the moment demolished rest of it
By Jason Baynham:
My mam used to take me this way when I was a boy. Absolutely disgraceful
By Derrelle Wells:
I am a descendant of the Williams family my great grandfather was Erasmus Williams je was from the Williams of Powis castle and Bodlewyden castle I am really pleased that I am looking at my ancestors history and I am hoping that I can get a chance to get the family tree .
By amanda williams:
Searchers of possible current owner might want to check out the one director of the Aberpergwm Estate company who is a Mr Williams of London. The company is registered with companies house as active but dormant.
By Garetb:
I've heard lots about this place growing up, my dad had the lease on this in the mid 70s spent lots of money restoring it replacing over 60 sash windows ready to start doing wedding functions etc and later found out there was no entertainment to be done within the grounds so had to give it up.