ABERPERGWM, Glyn Neath, West Glamorgan 1997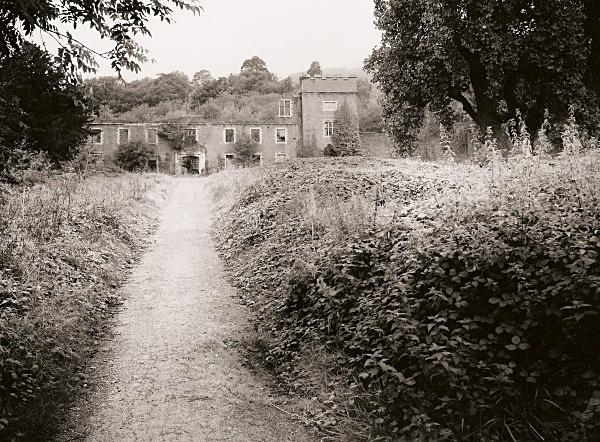 Notes on ABERPERGWM, Glyn Neath, West Glamorgan 1997
I recently visited this house (build 1560 on a former site) again and was shocked by what I saw. So much had fallen in just 6 years.
This property, still owned by the Coal Board, lies beside a housing estate and with no security and with public footpaths circling the house, is an easy target for vandals. Very little remains and what does is all but invisible in the undergrowth. Much vandalised and surprisingly, considering its state and location, yet to be demolished, but it can only be a matter of time.
A fine wooden door/gateway lies in a pile with bramble coils wrapping themselves around the rotten joins and two medieval windows were recently discovered in the collapsing masonry.
For further information on Aberpergwm a good starting point would be the excellent book by Elizabeth F. Belcham 'About Aberpergwm : the home of the Williams family in the Vale of Neath, Glamorgan'.
Aberpergwm 1997
Aberpergwm 1997
Aberpergwm 1997
Aberpergwm 1997
| | |
| --- | --- |
| | |
Comments
By Karen Williams Thorne:
Thank you so much for posting these photos and for taking the time to preserve this history for our family. It is so very sad that our Williams heritage in Wales is crumbling, but your photos are a treasure for so many.
By kimberley o'flynn:
hi these pictures are amazing of the aberpergwm house this is how i remember it as a teenager, the grounds have unfortunatly now been turned into a farm not allowing us to take our children for a walk around the house and grounds which many people of glynneath are upset about i was wondering if you have anymore pictures of the aberpergwm mannor house or it you know of a site that i could get them from any information would be greatfully recived and thanks again for the fab pictures that i can show my children
By Barbie Ahearn:
many happy childhood memories there..ghost hunts, apple picking in the walled garden. my late grandfather Dennis Ahearn, worked as a gardener there many years ago when he came to glynneath from jersey. do you happen to have any photos of the house in all its glory?