GREAT FRAMPTON, Llantwit Major, South Glamorgan 2005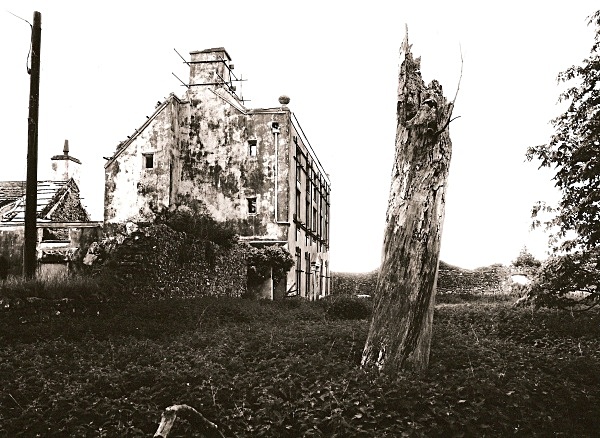 Notes on GREAT FRAMPTON, Llantwit Major, South Glamorgan 2005
Gutted by fire though not neglect, in the late 1990's, Great Frampton remains a hollow shell supported with scaffolding.
The famous astronomer, Nathaniel Pigott, stayed at Frampton during the 1770's and erected an observatory. The name Framptonis thought to have evolved from Francton an English knight, Adam De Francton, who killed Llewelyn, the last Prince of Wales.
Great Frampton, set in a wild park, also encompasses a walled garden. The large adjoining service wings are also ruined however.
I arrived at about 5am after a two and a half hour drive. An early start allows me to, at least attempt, visit as many properties in a day before the light fades or my eyes begin to flicker and flirt with a downward immobility.
As I pulled up alongside the house a farmer pulled away in the opposite direction, uninterested in me parking in front of his barns. The morning dew soddened my shoes almost immediately whilst I wandered around the grounds, seeking viewpoints and setting up my camera. Everywhere seemed still and the ground was carpeted with tiny cobwebs and a few birds few from eaves to tree. It was a serene scene and after the long drive a pleasant beginning to the day.
Great Frampton 2009
| | |
| --- | --- |
| | |