LERI MILLS, Talybont, Ceredigion 2014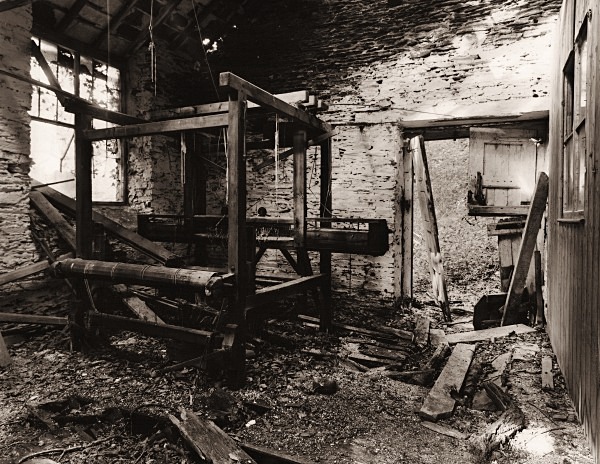 Notes on LERI MILLS, Talybont, Ceredigion 2014

Upstream mill comprises of numerous buildings – Metal frames of large water wheel lost in overgrowth – further downstream a long mill with rusting/rotten water wheel. Doors off hinges, dusty and damp, morning yet to break, floorboards rotten, dark pieces of machinery, all metal, all wooden, spindles of brightly coloured wool – covered in cobwebs – a small spider scrambles across an old edition of the 'Sun' newspaper (dated 1980). Only the spiders inhabit this place now. The only sound is that of the river. Otherwise, total silence unless one listens beyond the water and a thudding lorry passes on the main coastal road just half a mile away.

The weather was changeable; August – one moment torrential rain, the next bright humid sunlight making the exposures difficult to measure. The light varies by two or three aperture stops. I can only use my judgment in such dim interiors – a new-old film has been purchased for this very visit – Fuji Acros 100 sheet film – no longer made – apparently it has no reciprocity failure – which means if my light meter reads F32 at 15 minutes I do exactly as the light meter suggests – ordinarily, with every other type of black and white film, taking photographs under such dimly light circumstances, I would need to increase my exposures from 15 minutes up to one hour – Using an hour long exposure means I will take less images, the impact of waiting for such long times lessens my interest a little. Boredom sets in and I feel uneasy exclaiming I can be bored. I take about twelve images – total exposure time approximately three hours, otherwise, with any other film stock I would have been here for twelve hours. Maybe if I had a book and packed lunch… Focusing the camera too can be difficult in such darkness. I bring a strong torch and direct the beam towards the area I want to focus upon. I squint, I check, re-check, I stop the lens down and even after five minutes just trying to focus upon something there's always a chance I may have got it wrong. There are a few sections of the negative, on the edges where there is some less than pin-sharp information. I can forgive myself for this, I think.

I leave this complex of ruins and head back towards Aberystwyth. I go to Morrison's café and order scrambled egg on toast and some coffee. I watch the mid-day shoppers and know I must join them in a moment. My trousers are muddy, I've kicked off my wellington boots and swapped them for trainers. I'm back in the land of the living, of noise and essential food shopping.
| | |
| --- | --- |
| | |