LLANSTINAN HOUSE, Llanstinan, Nr Fishguard, Pembrokeshire 2009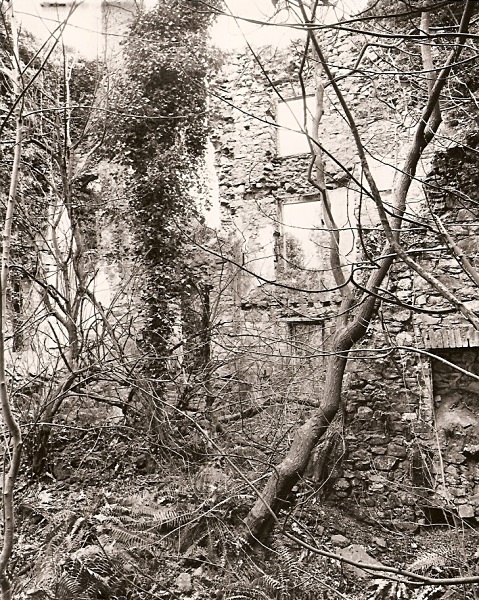 Notes on LLANSTINAN HOUSE, Llanstinan, Nr Fishguard, Pembrokeshire 2009
A return to Llanstinan on a late March, early morning and dimly lit. The house had recently been cleared from the foliage that crept around its walls and grounds. Destroyed by fire in the 1940's the house has, since, begun it's slow decline. A side view reveals high on the rendered wall with the date 1769. A row of palms hint at once renowned garden terrace.
Llanstinan House 2009
Llanstinan House 2009
Llanstinan House 2009
Llanstinan House 2009
Llanstinan House Porch 2005
TY LLANSTINAN. Llanstinan, Aberqwaun. Sir Benfro 2005 & 2009
Yn gynnar un bore ar ddiwedd mis Mai a glaw man trwm yn chwythu o'm hamgylch, cerddais ar hyd hen Iwybr a oedd yn llawn llystyfiant tuag at adfeilion dirgel a chyfareddol Ty Llanstinan.
Ar un adeg, roedd gan Dy Llanstinan ardd deras odidog (mae rhes hir o balmwydd yn dal i sefyll wrth ymyl y ty), ond erbyn heddiw mae wedi tyfu'n wyllt. Mae'r Ty Llanstinan llaith a thywyll bellach yn adfeilio. Colofnau portico sy'n eich croesawu i'r ty. Mae pedwar llawr i'r ty ynghyd ag islawr (pob un wedi mynd a'i ben iddo). Gorchuddiwyd y waliau cefn a llechi ond bellach mae iorwg yn rhwygo'r llechi o'r morter. Hefyd, mae'r dwr yn diferu i lawr.
Mae pob un o'r waliau o amgylch y stablau a'r esgyll gwasanaethu yn llaith, yn anghynnes ac wedi eu difetha'n llwyr. Adeiladwyd y ty ar hen safle yn 1680 a thros y blynyddoedd, cafodd ei newid yn rheolaidd. Yn y pendraw, llosgodd y ty yn yr 1940au.
| | |
| --- | --- |
| | |
Comments
By Charlotte Charles:
amazing to see photo`s of where my family Symmons lived
By jean symmons:
this symmons family are my ancestors I have a considerable family history of the symmons family of pembrokeshire