BLAEN BLODAU, New Inn, Carmarthenshire 2009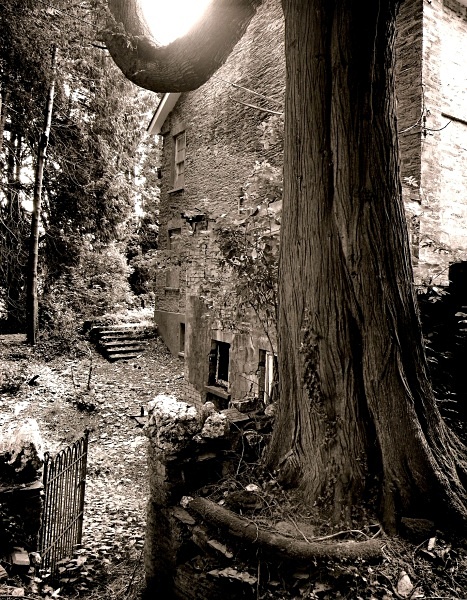 Notes on BLAEN BLODAU, New Inn, Carmarthenshire 2009
This image encapsulates all i seek to achieve with this project. It contains many of the elements you find whilst wandering around many of the mansions shown on this website; overgrown and mature grounds, a ruined house (although barely visible in this image) and a feeling of tranquility and sorrow. I find the compositional elements all suceessful. The large soft-wood filling much of the frame but also the open gate leading to the steps at the rear of the house and then a thin conifer on the far left rising to the top of the frame.
As recorded in the much revered 'Buildings of Wales' series (which now covers of whole of Wales, county by county) and also, with photographs, in 'Welsh Forgotten Houses'. Blaen Blodau was a very pleasant surprise.
Larger than the photographs suggest in 'Forgottten Welsh Houses' yet neither too large to be considered a rambling pile with two storey's settled on a basement. Inside is dark, damp and supported with wooden scaffolding – I peered through the side door but did not bother to enter. Two curved rear bays and a front curved bay obscured by a rendered late Victorian/early 20th century overhanging porch (which gives this house a very peculiar appearance). Beautiful and vast firs scatter the overgrown grounds with a short driveway wending itself around to the house.
A farm dog barked constantly whilst I was there, unable to see me but obviously aware of my presence. I circled the house and made a number of exposures. The morning had yet to truly break and long exposures were required of around 4 minutes. An air of calmness enveloped the house and grounds and one could imagine once some of the high branches were thinned and more light would enter the house and grounds that this would be a wonderful place to live.
A small but lovely coach house also in grounds.
Blaen Blodau Coach House 2009
Blaen Blodau 2009
Blaen Blodau 2009
Blaen Blodau 2009
Blaen Blodau 2009
Blaen Blodau 2009
Blaen Blodau 2009
Blaen Blodau 2009
Blaen Blodau 2009
Blaen Blodau 2009
View beside Blaen Blodau 2009
| | |
| --- | --- |
| | |
Comments
By Mrs Kathy Clark:
Sadness and many happy memories enveloped me when I came across the photographs of BBH as it was known when I grew up there. As the author of this article on the net has written ,it was a wonderful place to live. Tranquil and peaceful originally built around 1795. The photographs a sad but also capture the spirit of beauty of a long lost era ,when the property was in it hay day when my grandparents used entertain a lot , have charity events in the house and grounds which were kept beautiful maintained by a number of staff employed in the garden sand house. I recall the tennis parties in the early fifties which as small child were very exciting. Should anyone wish to contact me regarding this beautiful old house which has been in my family for well over a century,please do so via my email.