EDWINSFORD, Talley, Carmarthenshire 2010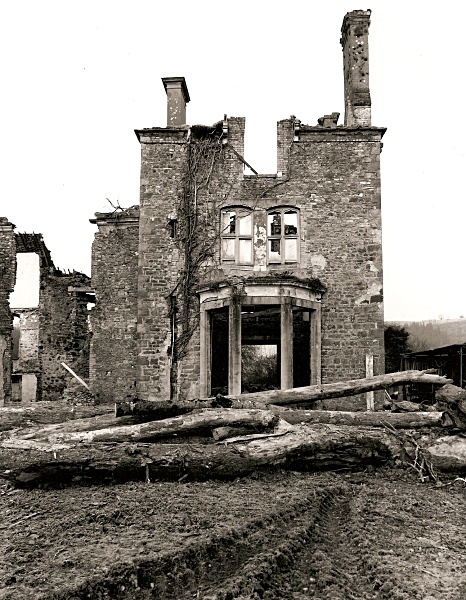 Notes on EDWINSFORD, Talley, Carmarthenshire 2010

There is something vastly poetic and romantic regarding the grieving walls of Edwinsford. The blue morning hue hung soft and silent and I too trod soft and silent amongst the rubble and remaining walls. It felt impossible to utter a sound, if so, the atmospherics would shatter into something ordinary.

The ground was frozen underfoot and thin layers of ice formed over the tyre tracks and puddles made by the sharp manoeuvres of diggers and tippers. The heavy machinery sat like silent dinosaurs in front of the house, like guards, rested from disposing unidentifiable rubble and clearing piles of debris.

Never anything less than a subliminal experience one can not help but wonder why it has taken so long for anyone to come to the rescue of this unusual house that has been begging for some love for over 50 years.

A house of many periods and styles, each individual yet the individual parts do not, as seen at other properties, detract from the overall aesthetics. It adds only character in the case of Edwinsford. The white washed square structure, built around a large chimney, has collapsed around the rear (wooden panelling can be seen on the walls within) and this internal view gives an excellent view of how this square structure of the house was built. At the rear there's a small courtyard, ivy entwined around stone work, but the majority of the internal structure is a void shell revealing a few structural and dividing walls and high chimneys.

The owner has cleared the piles debris and an inkling of how the house must have felt can be experienced. It would be very easy to fall in love with Edwinsford. The owners / restorers need congratulating at visualising the view from a mountaintop when they are only a small part way up. I personally can barely comprehend the task at hand.

The only sound I heard during my visit was the morning birdsong; particularly the sweet song from the blackbird and also the cackle of those intelligent crows and the flow of the river Cothi. It becomes easy to recall the joy of Edwinsford, as home, as seen in old photographs and postcards; neatly maintained grounds, well dressed occupants, windows and door left open in the summer months, daffodils bobbling about on a spring morning. The wealth of full bloom sits juxtaposed to the poverty of crumbling stone and dissolved mortar.
| | |
| --- | --- |
| | |