CUB SCOUT HUTS, Devil's Bridge, Ceredigion 2010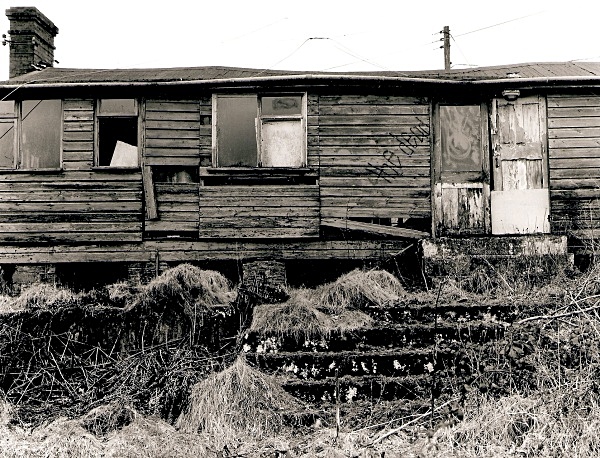 Notes on CUB SCOUT HUTS, Devil's Bridge, Ceredigion 2010

There must be around 15 of these small wooden huts, all painted green and white and were once a summer home for cub scouts. All are damp and rotting with doors and windows hanging from their frames, brambles weaving and prising apart the wooden slats from the walls.

This visit was a spontaneous one - I had no intention of returning here for many more years. The complex has naturally deteriorated further since my last visit two years ago, most of the wooden huts are now very damp and in various states of collapse. The brambles rips at your clothes as you make your way and the whole experience is an unpleasant one. This image, although no necessarily in evident in this scan, works because of the flattening of the perspective and also the patterns formed by the telegraph wires above the building.

CABANAU CYBIAU, Pontarfvnach. Ceredigion 2005
Mae'n rhaid bod oddeutu 15 o'rcabanau bychain pren hyn, i gyd wedi'u peintio yn wyrdd a gwyn ac unwaith roeddent yn dy haf i gybiau sgowtiaid. Mae'r cyfan wedi eu gadael i ddirywio dros y 10 mlynedd ddiwethaf ac maent yn llaith ac yn pydru gyda drysau a ffenestri yn hongian o'u fframiau, mieri yn gweu drwy 'r slatiau pren ac yn eu tynnu i ffwrdd o'r waliau.
| | |
| --- | --- |
| | |