WALL, New Row, Ceredigion 2003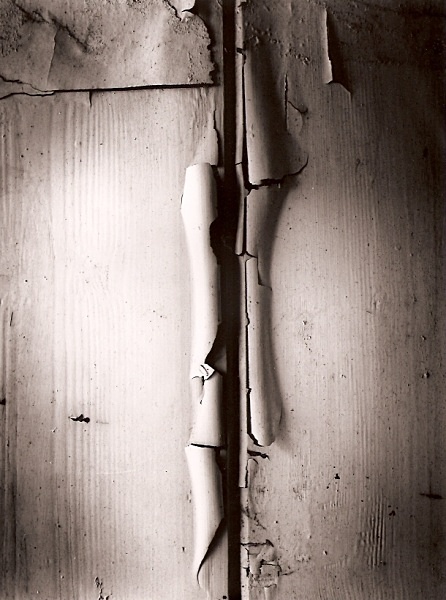 Notes on WALL, New Row, Ceredigion 2003

Peeling paint in the ruined farmstead of Llewtysynod.

The farmhouse, Llewtysynod, this was taken in still stands empty but the slate has been removed from the roof and all the wooden panelling, although rotten, has been stripped from the inside. Recently a chimney has also collapsed. As little as 3 years ago the house seemed salvageable but no longer. What a shame. This was taken upstairs and before the slates were removed. It was incredibly dark and I don't think I would have been able to capture the tactile-ness of the paintwork if I hadn't been able to open a tiny door (about two foot high) which lead to a small attic. By opening this door just a jar I could direct some light so it skimmed the surface of the wall the paint was on. It was fortunate, other wise I would have not been able to take the picture. A long exposure of around 16minutes was required and an 90mm lens at F22. Influenced by the work of Aaron Siskind.

Seeking abstractions in rural mid Wales can at times prove difficult but also when a suitable wall is found, rewarding. Fortunately, there are many ruined houses, farms and industrial buildings which may not always be easy to enter. When possible they often contain walls covered in blistered paint or peeled wallpaper. Often there is very little natural light and since I do not use flash photography exposures can vary from a few seconds up to a few hours. These long exposures allow me to become acquainted with these empty properties, their crumbling and damp walls and whilst the film is exposed to the subject I can settle into the moment and become calm within the buildings atmosphere.
| | |
| --- | --- |
| | |