PLAS CRWN, Llandewi Velvrey, Pembrokeshire 2010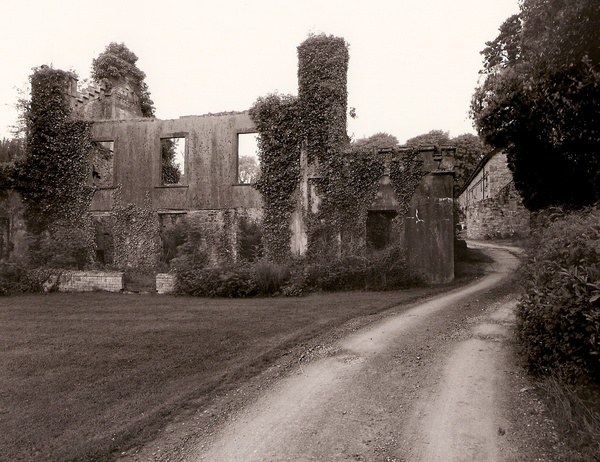 Notes on PLAS CRWN, Llandewi Velvrey, Pembrokeshire 2010

Walking up to the driveway, passed the stone gates posts and cast iron gate, it had suddenly occurred to me that I had visited Plas Crwn before. The grounds are immaculately maintained and then, back in 1998 (?) I had decided that if the grounds are so well maintained then surely the house too must no longer be derelict but restored. In 1998 I 'about turned' and did not bother to investigate any further.

This visit I carried on. If I had walked on a further 100 yards in 1998 I would have seen Plas Crwn as ruin. It is modest in size and somewhat dwarfed by the large array of stables and other buildings at the rear of the house. These have all been sympathetically restored and are occupied.

Plas Crwn itself consists of the front façade and the two end ranges with chimneys and two towers survive. The rear has completely collapsed and the basements have all caved in. Plans to renovate the property were submitted in 2005 but I am uncertain of the conclusion of the application. The two corner decorative towers are ivy covered but the castellation design is just about apparent. My entire visit was witnessed by a male peacock who sat watchful, between preening itself and making the trademark loud squawking sound. He sat majestically, as one would expect, forty foot high on one of the towers, the lord of his crumbling estate.
| | |
| --- | --- |
| | |