MOUNTON CHAPEL, Canaston Woods, Pembrokeshire 2010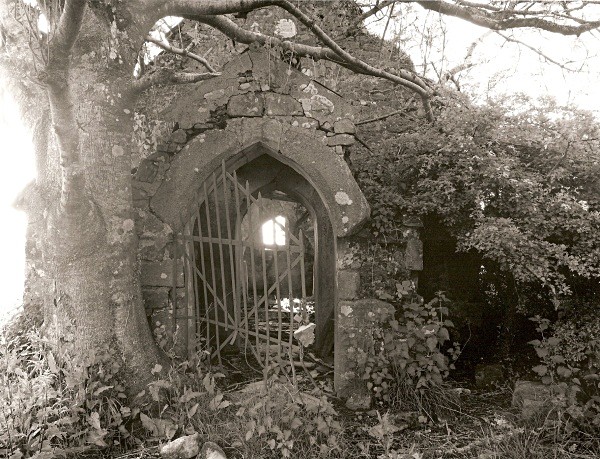 Notes on MOUNTON CHAPEL, Canaston Woods, Pembrokeshire 2010

Originally a 13th century chapel but restored in the 18th and 19th centuries, it is very ruinous with the roof half collapsed and the other half in a very precarious state.

I squeezed through the high security fence that surrounds this small chapel in the middle of a field. I was not going to enter but the fence had already been breached and I was pleased I did. Inside there was the usual clutter and masonry of an abandoned, and partly fallen, property laying on the ground. Graffiti was scratched into the soft damp plaster on the walls – names and dates, some of which dated back twenty years, all part of the chapels' recent history. Some areas of brightly coloured paint on corbels and small wall alcoves, framed in blue and red paintwork. These small areas of colour gave hint at a once beautifully decorated chapel.

Outside just off centre to the entrance is a large five foot square large foundation stone. I was uncertain of its purpose.
| | |
| --- | --- |
| | |
Comments
By Ellie:
We walked round it on our weekly ramble this morning - a hidden gem and such a pity it's been let to ruin. Your photos and info are great and much appreciated
By A Saundersfoot Stroller:
Walked through Canaston Woods yesterday, and was thrilled to come across this gem. Conjures up all sorts of images of families,walking miles to chapel,along these lovely leafy paths all those years ago.Thankyou
By Sil:
First visited. This church in mid 60s when still cared for but rarely used. By mid 90s decay had set in and there were holes in the roof. The large foundation stone in churchyard supported a large, heavy cross approx 6ft tall.
By Helene:
A return visit with the Saundersfoot Strollers - once more appreciated the calm aura, but regret its slow disintegration. Thanks for your very interesting photos.