HOUSES at CWM ELAN MINE, Elan Valley, Rhayader, Radnorshire 20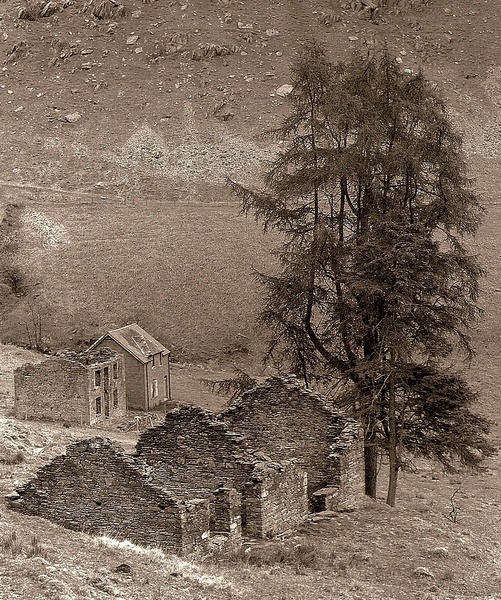 Notes on HOUSES & MINES at CWM ELAN MINE, Elan Valley, Rhayader, Radnorshire 2010

Nestled in a quiet valley between the high lands and the reservoirs and ancient broadleaf woodlands the Cwm Elan mines are a worthy experience not just for its solitary atmosphere but also its historical interest. It sits 1000ft over looking the Garreg-ddu reservoir. The only sounds one can hear are the babbling brook, the bleating sheep and the sweeping and singing birds.

The two ruined houses which stand beside one another are a stark contrast in style and colour. I believe the stone house was home to the manager of the mine when lead was discovered at the site in 1796 (and was mined until 1877). Much of the mining equipment and indeed buildings have or are slowly vanishing as the years pass. The red brick house was built by the Birmingham Corporation Waterworks for one of its estate workers and is now in agricultural storage use (although my last visit a few years ago access inside was easy and very little remained since it was used by the sheep as shelter!).

The ferns had yet to fully burst open and last years crunched underfoot. When fully grown at the height of summer these ferns cover much of the fields and hills around the mine and are chest high (and also a fertile breeding ground for sheep ticks). My visit on this occasion was humid but cloudy but after a few hours, towards the end of my visit, the sun returned with strength and lit up the spring greenery and the red brick building with pure delight.
| | |
| --- | --- |
| | |