TREFENTER CHAPEL & CHAPEL HOUSE, Trefenter, Ceredigion 2010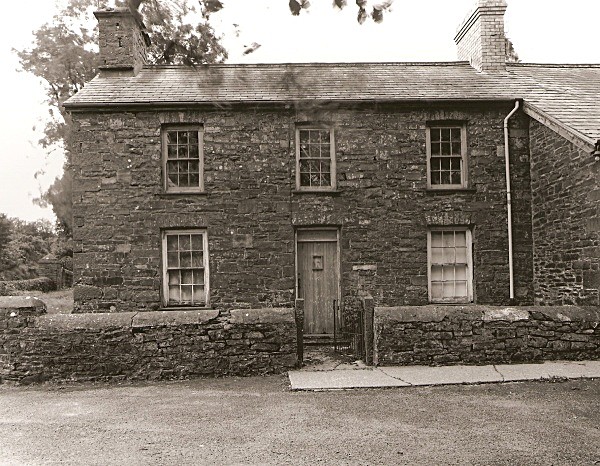 Notes on TREFENTER CHAPEL & CHAPEL HOUSE, Trefenter, Ceredigion 2010

A few hundred yards from the small village of Trefenter and down a dead end lane stands the chapel and chapel house. The front view of the house, chapel and vestry mislead the onlooker into believing that the buildings are all in a fine state of repair. Further examination reveal a sorrier picture. The chapel within, in the top right hand corner, has a huge hole and dampness. Debris litters the pews beneath. It does however appear the chapel is still in use, I imagine the congregation alternate each Sunday with other local chapels. The Vestry, locked, also appeared to be in regular use.

The chapel house however was in a sad state. The front view offered the opinion that a lick of paint would liven up the building but around the rear, standing in the cemetery, revealed a sorrier picture. Many slates had come off and no doubt within one would find the ceilings and floors to be damp and possibly hole ridden and dangerous. What's to be done? Communities do not have the money to restore the chapel let alone consolidate and modernize the chapel house.
| | |
| --- | --- |
| | |
Comments
By Andrew Hawkey:
When I first came to Wales to live, in 1973, I rented this house, and stayed there until 1976. Rent was £3 a week! It had electricity and water, but that was about all. The chapel was then in fairly regular Sunday use, altho' congregations were tiny ... sometimes the preacher would sit in his car for an hour waiting inj vain for someone to come, then eventually drive off. Funerals were occasionally held, and it was part of the deal that my kitchen was used for making tea. Uneaten sandwiches and cake were left for me, by way of recompense! The house was cold and damp, but I was busy being a hippie, so I wasn't overly concerned. It's sad to see the house unused, but it seems unlikely that it can ever be resurrected for habitation: there's a road on 2 sides, the vestry adjoins on another side, and the graveyard comes right up to the back door, so there's simply nowhere to site the necessary septic tank. A shame, as it's a solid well-built house ... Perhaps if the chapel falls into complete disuse, the entire complex of buildings might become available, but I fear it may become ruinous sooner rather than later. And Trefenter is a VERY odd village, and a strange place to live ... In 1976 I moved to an inaccessible and idyllic semi-ruinous cottage called Maes Mynach, atop a mountain above Cilcennin, and endured 4 years there, before I decided I'd really had enough of living with a chemical toilet. Happy(ish) days.
By c taylor:
How has this delightful looking chapel house been allowed to get to this stage of disrepair.I believe it is grade 2 listed .Someone must be responsible for the upkeep .They have given it a grade 2 but no wants to take responsibity for its maintenance.The mind boggles.