GARREGLWYD, Elenydd, Pontrhydyfendigaid, Ceredigion 2011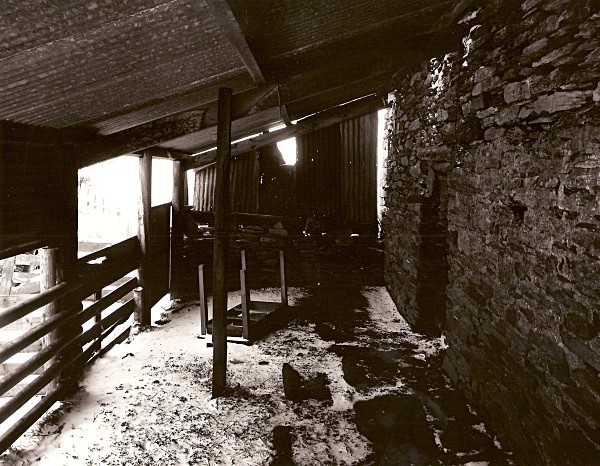 Notes on GARREGLWYD, Elenydd, Pontrhydyfendigaid, Ceredigion 2011

With my car out of action I took to pedal power, on a Friday morning, in the sleet, from Tregaron to Pontrhydyfendigaid, up further past Strata Florida Abbey and beyond to the Mwyro Valley.

I locked my bike near to the small chapel that sits at the dead end of the tarmacked road. The last time I was here was in 2002 and this small chapel lay derelict, the slates barely clinging to the rotting roof timbers. Happily, now it has been beautifully restored. So on foot I walked along the path and up to the farmstead of Garreglwyd.

It wasn't an easy walk. I was tired from the cycle ride, the sleet was bitter against my face and my waterproof clothing had begun to dampen and cling coolly to my body. Yes, I did consider turning back but felt I would be letting myself down. In 2002 I visited Garreglwyd, the ground was baked hard and the heat was stifling. The seasons in Mid Wales can be harsh but better to feel them than be cocooned within a city confines.

The house at Garreglwyd is long ruined, in fact there are many small ruins along this once relatively high-populated area of small farms and shepherd dwellings, and the corrugated iron roof had collapsed on what little remained inside. My visit in 2002 showed a small wood burner and some benches and seats. Was this an unofficial rest for the weary wanderer? I rested there in 2002 and appreciated it. With the roof collapsed there is no longer anywhere to rest, other than the barns which are still in agricultural use.

Unfortunately Garreglwyd has all but reached the end of its secluded life. Around the rear, the house sits in a bank and one feels it's is surely sinking back into the ground.
| | |
| --- | --- |
| | |