CAERMEIRCH, Ceredigion 2011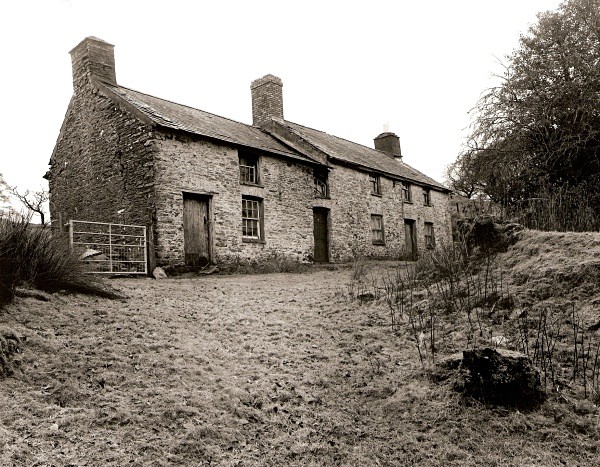 Notes on CAERMEIRCH, Ceredigion 2011

The day after, a day of, constant and heavy rain. Caermeirch is a damp place on the driest of summer days. Water pumps out from the ground. Patches of land in front and to the side of the house are large puddles, deep enough to warrant wellingtons.

The house itself has been empty, by my reckoning, for at least twenty years. I once slept in the front room, 10 years ago, cold on the slate floor wrapped in a sleeping bag and having dreams of crows flying down the chimney and filling the room with dark shadows of winds beating at breakneck speed.

The walls are damp inside. Flag stone floors are cold to the touch. Various bits of debris fill the downstairs rooms; jam jars, coils of barbed wire, boxes and the kitchen filled with old kettles, pots and pans. Upstairs the three bedrooms are littered with worn, moth-eaten clothing, empty bottles of pills and medicines.
Outbuildings are plentiful and are in various states; some in use, some with holes in the roof; some repaired whilst others let in the rain.
| | |
| --- | --- |
| | |
Comments
By oldskool:
i found this while on my first holiday in the area. what a lovely house and a lovely area. shame the roof has started going and rains getting in now, i just hope the owners restore it or sell it soon before its too late, its been empty 30 years now nearly. real shame. i dont understand why folk leave them empty and fall to ruins rather than selling them and let someone else live in them and love them. too many houses like this end up getting trashed by vandals and once a hole in the roof appears its crazy how quickly the house falls apart.