CILGWYN, Llandyfriog, Ceredigion 2011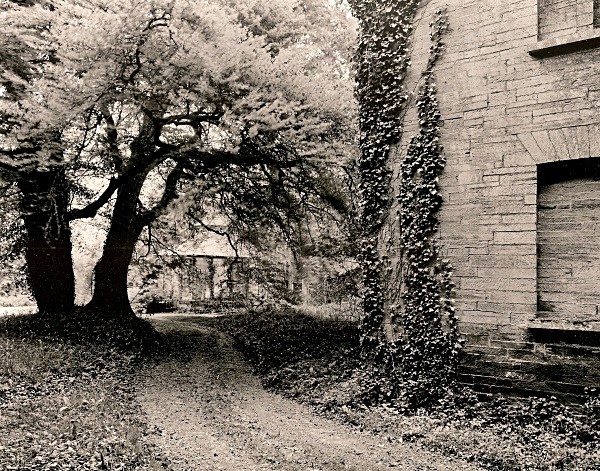 Notes on CILGWYN, Llandyfriog, Ceredigion 2011

Standing and overlooking Newcastle Emlyn and on the banks of the wending river Teifi, Cilgwyn House was once an important estate and owned huge areas of Carmarthenshire and Cardiganshire. Although there is little recorded pictured evidence, a house has stood at this site during the 18th century, possibly earlier. The Cilgwyn we see today was built in 1870.

Old photographs of the house reveal a lead turret over the main entrance but this was replaced since causing structural damage and in my opinion the entrance, also lacking its porch, has become somewhat overwhelmingly ordinary. That said the house is large, 17 bedrooms and feels like a solid block of stone. One gets a feeling that this house was built resolute and with resilience.

As you can see from these photographs it is beginning to fall into disrepair and those slow but sure ivy coils are creeping between the thinnest of cracks and gaining purchase. There's large stables around the rear and other extensions (at some point the house was a hotel) but all is looking tired and windswept. The mature oaks and freshly mowed lawns can not hide the fact that Cilgwyn needs some care and money poured into it.

It is currently for sale.

My visit was brief and after a spring of glorious sunshine I found this particular morning devoid of that early morning soft hue that I had been recently waking to. The greyness drab and uninspiring yet seemed appropriate for the task at hand; that is to photograph Cilgwyn sympathetically and with respect. Not all the images are successful – I only had 10 sheets of film and due to the height of the house and the relatively narrow angles of view offered I was somewhat forced into certain viewpoints. But so be it – every house has a different feel and each must be approached differently. Although not all the images were successful there is enough in them to satisfy me.

I left Cilgwyn thinking that my next visit should see a much happier house, perhaps not with freshly mowed lawns but with the ivy cut back, the ridge tiles replaced and the windows replaced/repaired. One can hope.
| | |
| --- | --- |
| | |