LLANFECHAN, Alltyblaca, Ceredigion 2011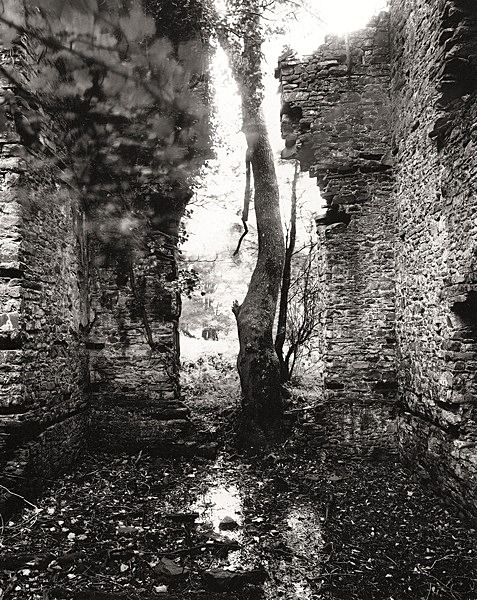 Notes on LLANFECHAN, Alltyblaca, Ceredigion 2011

Hidden from view and the morning had yet to properly break. I reached the matured grounds of the house Llanfechan in uncertainty. I had been told much remained but also as mentioned in 'The Lost Houses of Wales', it was 'mostly demolished'.

I could make out a bulky dark mass in the dim morning light and once beyond the covering of trees, the walls of Llanfechan could easily to reached. And once within those walls, standing in the ruins themselves, it becomes easier still to imagine this was once a rather fine mansion house.

The house standing today was built in 1786 and due to fire was already ruined by 1837 and thus remained a ruin all these years since.

In the Pevsner Building of Wales guide for Ceredigion it suggests that Llanfechan was designed by John Nash and is comparable to his Llanerchaeron just a few miles away (and it doesn't take an untrained eye to find these comparisons!).

The original full two storeys remain today, the façade and main section of the house. Although the outer is covered almost entirely with foliage and trees and there are a few mature trees within the site, it is generally easily negotiable – one gable end, against a damp and dimly lit bank has large cracks and holes forming with the chimney on the brink on collapsing inward.

The morning of my visit the wind blew hard and the overcast day offered little prospect of improving. The wind and the dimness of light meant I required long exposures of around 4 – 16 minutes and this in fact helped me with exposing more of the buildings fabric than would ordinarily be possible. The windswept branches and leaves meant their movement wasn't properly recorded and was instead recorded as a 'slight blur' and thus more stone work was recorded onto the sheet of film inside the camera.
| | |
| --- | --- |
| | |