GWDIG / GOODIG, Burry Port, Carmarthenshire 2009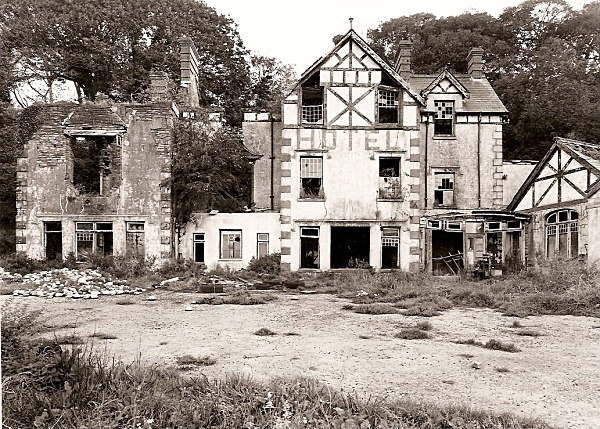 Notes on GWDIG / GOODIG, Burry Port, Carmarthenshire 2009
Once again an early 4am start, leaving my house at Cwmystwyth and driving south through Lampeter and beyond Carmarthen towards Llanelli. I had driven by Gwdig a few times before. It stands solemn but in a great location, high on a hillside overlooking Burry Port and the Burry Estuary.
Even from below on the main road to Llanelli it is apparent the house is both large and derelict. The hand painted word 'HOTEL' stands loudly on its decrepit walls. It is uncertain when built but a date stone was found on a front wall dated 1701 (although this is thought to be when it was restored or re-built – a house stood at this location before then). See
http://www.llanelli-history.co.uk/houses_goodig.htm
for further information.
Up close the house is in a very sad state of disrepair. The upper floors have all collapsed with the staircase a chaotic mess of wood. Some wooden panelling on the walls can be seen, oddly appearing in good order in amongst the mess and disarray within. There are also wooden shutters on the window frames and some panes in tact though mostly broken.
It was still relatively dark when I set the camera up and the first few exposures were taken before sunrise. Long exposures of around 16 minutes were used and these give the images a stillness that equals to the calmness of this fine Indian summer morning. As the light began to creep across the house and the darkness faded, the shadows began to be less deep, the birds began their daily chorus and one could not help but be moved by the sorrowful pile that this house had become.
Originally a farm, then enlarged to four storeys and considered a 'Plas'. It was used as a hotel but burnt down in the 1980's and has remained derelict ever since. There is the usual collection of disused farm machinery lying redundant and rusting and appears untouched by the vandal. Outbuildings are all ruined with empty caravans, cars and an empty lodge(?) near to the main house with similar false beams.
It is currently unlisted but was once a fine looking house but since little is known or cared about I can only imagine that Gwdig will eventually be demolished or will just collapse on its own accord in the passing years.
GWDIG, Carmarthenshire 2009
GWDIG / GOODIG. Porth Tywyn, Sir Gaerfyrddin 2009
Saif Gwdig yn ddwys ddifrif mewn ileoliad gwych, fry ar ben bryn uwchben Porth Tywyn ac aber Afon Llwchwr. Hyd yn oed o'r ffordd fawr i Lanelli mae'n amlwg bod y ty'n fawr ac yn anghyfannedd. Mae'r gair 'HOTEL' wedi ei beintio a Haw mewn llythrennau mawr ar ei waliau adfeiliedig. Ni wyddys pryd y cafodd ei godi ond darganfuwyd carreg ar un o'r waliau a'r dyddiad 1701 ami (er y credir mai'r dyddiad y cafodd ei adfer neu'i ailgodi yw hwn - arferai ty sefyll yn y safle hwn cyn hynny).
Yn agos mae'n amlwg bod y ty mewn cyflwr truenus. Mae'r lloriau uchaf wedi mynd a'u pen iddynt ac mae'r grisiau'n llanast anniben o bren. Mae rhai o'r panelau pren i'w gweld ar y waliau o hyd, ac yn rhyfedd ddigon maent mewn cyflwr da yng nghanol y llanast a'r anhrefn sydd y tu mewn i'r ty. Mae caeadau pren ar y ffenestri, y rhan fwyaf ohonynt wedi torri. Llosgwyd y ty'n ulw yn y 1980au ac mae wedi bod yn wag ers hynny.
| | |
| --- | --- |
| | |